A New beginning at the Maritime Museum of the Atlantic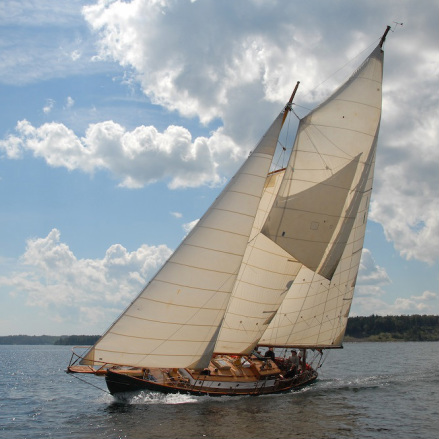 Courtesy of Marcus Q Rhinelander Photography
Dimensions:
36'-9'' length on deck
42' length overall (loa)
27'-5'' waterline length
8'-9'' beam
750 ft²' sail area
5'-8'' draft
Hebridee II, a William J. Roué designed schooner, built in 1953, was donated to the Nova Scotia Museum over four years ago.  Since then, the vessel has been meticulously restored in the boat shed at the Maritime Museum of the Atlantic by our Curator of Small Craft Conservation, Eamonn Doorly, with assistance from staff and volunteers.  Throughout the restoration project, key milestones have been celebrated at the museum, providing opportunities for the community to engage in Nova Scotia building traditions and our vibrant sailing heritage.
The official event celebrating Hebridee II's completed restoration, re-launch and re-christening happened at her former berth at the Royal Nova Scotia Yacht Squadron on Friday, July 14, 2017.