Re-launch of Whim
The Maritime Museum of the Atlantic would like to invite you to the re-launch of Whim, which will take place on August 15, 2010 at the Wayne Heisler Yard in Chester. A chance to view the restored sloop will take place at noon, with the official ceremony commencing at 12:30. Whim will return to the water at 1:00.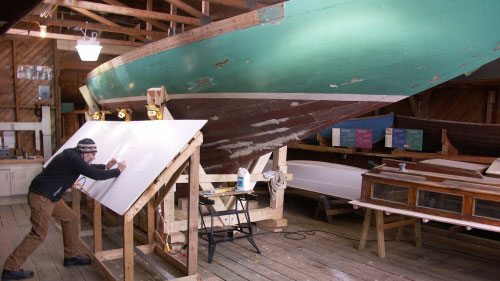 The "C" Class sloop originated in Chester in the 1930s, when a group of yachtsmen, concerned with an overall lack of variety in sailing vessels in the area, approached Reuben Heisler to design a new class of cruising yacht. Heisler's design hit the water in 1937 and gained in popularity as the season progressed. One of the first sloops built was Whim, commissioned from Heisler by Mrs. Alberta Pew. In 1938, Whim bested the competition by winning the Chester Bay Challenge. As the decade passed, most of the sloops were sold to other yachtsmen as their fame drew them away from Chester Basin.
As a class of sailing vessel, they remain beautiful examples of their era and a joy to behold in action.
For more information on the "C" Class sloop and yachting in Chester Basin, please consult Claudette Sapp's book, "Sailors & Rattling Teacups", a history of the Chester Yacht Club.
Whim
LENGTH OVERALL: 37ft 4 inches
LENGTH WATERLINE: 25 ft
BEAM: 8 ft 4 inches
LENGTH OF MAST: 51 ft
RIG: Marconi-rigged with spinnaker & club footed jib
CONSTRUCTION: Carvel planked white pine over steam bent oak frames, oak backbone, stem & keel