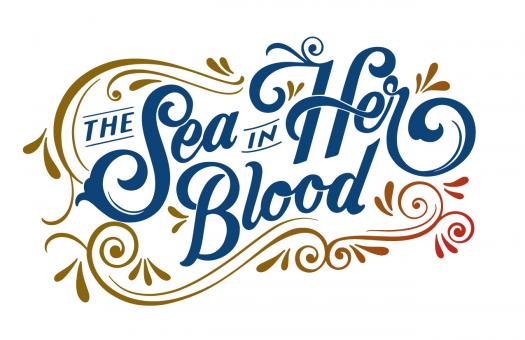 Special 2019 exhibit (to February 2020)
Living in Mi'kma'ki-Acadie-Alba Nuadh-Nouvelle-écosse-Nova Scotia means living with the sea. Like the land we call home, every generation of maritime women is shaped by the sea – through maintaining tradition and pushing boundaries, work and play, struggle and triumph. Many of their stories have been lost to time. Today maritime women continue to both redefine traditional ways of living with the sea, and shape new ones. The Sea in Her Blood highlights 17 of these extraordinary women.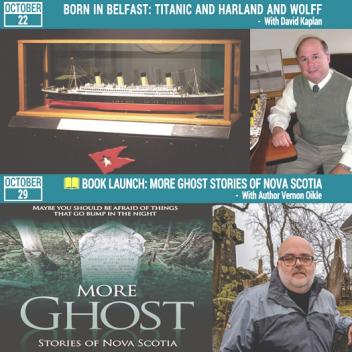 Tuesday Night Talks in October!
Two fascinating talks coming up in October relating to Titanic and its historical shipbuilder, Harland and Wolff with David Kaplan, and on the week of Halloween, "More Ghost Stories of Nova Scotia" from author Vernon Oickle. Learn more about our upcoming talks and events!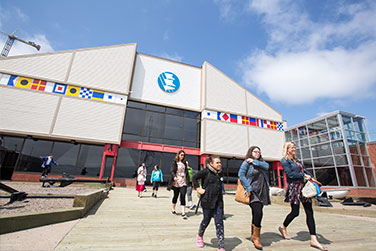 Maritime Museum of the Atlantic
Located in the heart of Halifax's waterfront, there's no better place to immerse yourself in Nova Scotia's rich maritime heritage than the Maritime Museum of the Atlantic.
From small craft boatbuilding to World War Convoys, the Days of Sail to the Age of Steam, the Titanic to the Halifax Explosion, you'll discover the stories, events and people that have come to define Nova Scotia and its relationship with the sea.

Saturday, October 19 from 6 pm to midnight
An annual evening of art and wonder in the heart of K'jipuktuk/Halifax. Stay tuned for more details on our community gallery event!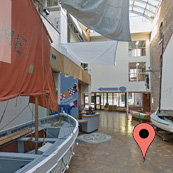 Google Maps Tour
Tour the museum in Google Street View! Experience and explore our galleries and exhibits online to sample our marine history and stories that we share as Canada's oldest and largest Maritime museum. See the Google Maps Virtual Tour »
Be social
Museum Hours
| | |
| --- | --- |
| Monday | 9:30 am - 5:30 pm |
| Tuesday | 9:30 am - 8 pm |
| Wednesday | 9:30 am - 5:30 pm |
| Thursday | 9:30 am - 5:30 pm |
| Friday | 9:30 am - 5:30 pm |
| Saturday | 9:30 am - 5:30 pm |
| Sunday | 9:30 am - 5:30 pm |