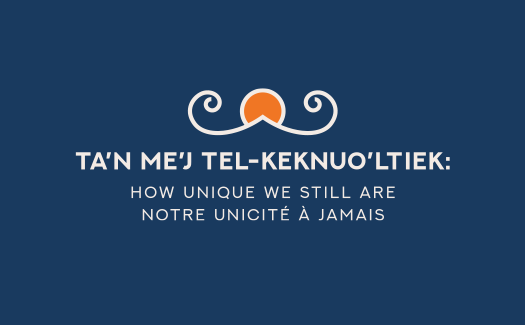 Ta'n me'j Tel'keknuo'ltiek:
How Unique We Still Are
Opening November 9, 2021
Ta'n me'j Tel'keknuo'ltiek: How Unique We Still Are, reflects how Mi'kmaw people remain connected to the lands and waters of Mi'kma'ki. This exhibit offers a platform for Mi'kmaw people to express their continued experiences with an understanding of the lands and the waters of Mi'kma'ki. Mi'kmaw single-word concepts are represented through personal testimony and histories of individual Mi'kmaw people, featured objects, artifacts, images and symbolic artwork. These experiences and understandings are rooted in cultural expressions that connect past, present and future in this place.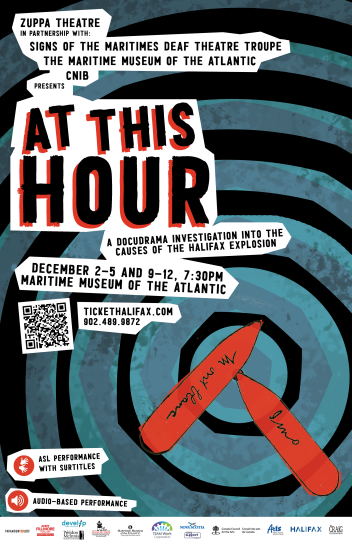 At This Hour:

A docu-drama investigation into the Halifax Explosion

Evening shows: December 2-5, 9-12, 2021

Presented by: Zuppa Theatre, in association with The Maritime Museum of the Atlantic, The Canadian National Institute for the Blind, and Signs of the Maritimes Deaf Theatre Troupe
Maritime Museum of the Atlantic
Located in the heart of Halifax's historic waterfront, there's no better place to immerse yourself in Nova Scotia's rich maritime heritage than the Maritime Museum of the Atlantic.
From small craft boatbuilding to World War Convoys, the Days of Sail to the Age of Steam, the Titanic to the Halifax Explosion, you'll discover the stories, events and people that have come to define this province and its relationship with the sea.

Museum webcams
If you're not able to come for a visit, you can see what's happening around our museum waterfront thanks to our supporters at Nova Scotia Webcams. Enjoy a live, birds-eye view of our museum wharves and our museum and anchoryard on the Halifax waterfront.

Evergreen Festival Fun at the MMA!
Free Nautical Rope Wreath Demos, Saturdays 1 pm – 3 pm
Dress warm and come by the Boat Shop to see how this festive craft is made. Maybe take one to try at home!
Dates: Nov. 27, Dec. 4, 11 and 18.
(Note: museum entry admissions apply)
Be social
Museum Hours
| | |
| --- | --- |
| Monday | closed |
| Tuesday | 10 am - 4 pm |
| Wednesday | 10 am - 4 pm |
| Thursday | 10 am - 4 pm |
| Friday | 10 am - 4 pm |
| Saturday | 10 am - 4 pm |
| Sunday | 1 pm - 4 pm |
We are happy to welcome you back!  Check out our "Know before you go" guide to help prepare you for your visit. 
Holiday Hours »
Admission »