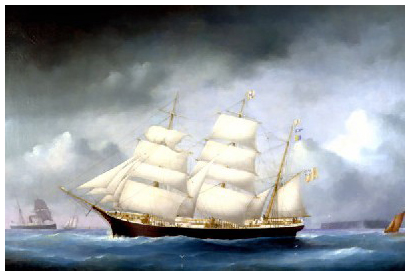 Ship Portrait John A. Harvie
The barque JOHN A. HARVIE is shown in this leeward view under reduced canvas, close hauled on the starboard tack. The fore topgallant is being taken in. The fore and main royals have been furled and the mizzen gaff topsail and the flying jib have been made fast. The four signal letters, worn at the mizzen truck, are not the vessel's International Code Signal. The Harvie house flag is worn at the main truck.
Fred Wettering was a sea captain from Bremen who later moved to Bremerhaven. This is a very beautiful painting, serene and professional in every aspect and detail. It shows what a highly skilled artist can achieve from the basic sail and rigging plan.
JOHN A. HARVIE was launched on July 22, 1876, registered at Windsor, N.S. and owned by John A. Harvie, George Harvie, William M. Lockhart (master) and six others from the Newport area. John A. Harvie remained the managing owner. William M. Lockhart was the master until 1880 when Elkannah C. Lockhart assumed command. Three months later, on a voyage form New York to Dublin, Ireland, the vessel stranded near Wexford and became a total loss. The crew were rescued by a National Lifeboat.
Barque JOHN A. HARVIE Gross Tonnage: 1,035
Built in 1876 at Newport, N.S. by John A. Harvie
Dimensions: 176.9' x 37.2' x 23.0'