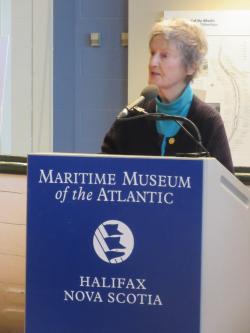 The Maritime Museum of the Atlantic has lost a colleague and a friend. Janet Kitz, educator, researcher and the foremost authority on the history of the Halifax Explosion died peacefully on May 10, 2019.
Janet became a volunteer research associate with the Museum in 1981 when she agreed to assist in cataloguing a collection of over 1000 mortuary artifacts, the personal possessions recovered from the unclaimed bodies of victims of the disaster. Her curatorial work led to an interest in interviewing survivors of the disaster. With her friendly and patient demeanour, she interviewed dozens of people and chronicled their memories in two major works on the Explosion: Shattered City (1989) and Survivors (1992). Many of these informants also became her friends.
Her oral history and collection research led to the mounting of two museum exhibits: Moment in Time (1987) and Halifax Wrecked (1994). For over 30 years, she participated in countless public presentations and school programs at the museum. Staff who worked with her always looked forward to her days at the museum.
We shall miss her warmth and good humour; however, her legacy will live on.