Wooden floors creak, the smell of pine tar tickles your nose, the sounds of waves and gulls calling in the distance reaches your ears.... Stepping into the Days of Sail gallery feels nostalgic, like you are out at sea on a sailing ship in another time.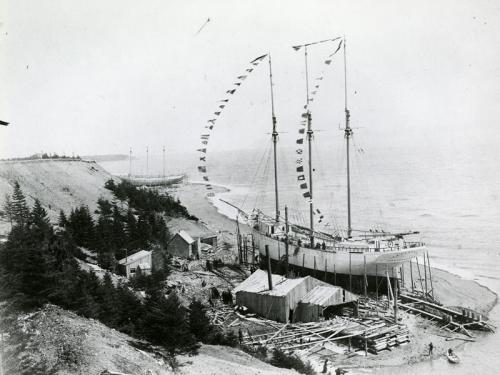 MP9.229.1: Tern schooner Irma Bentley under construction at Elderkin shipyard, Port Greville, NS, 1908, with two unidentified vessels in background.
Shipbuilding in the Maritimes 
The Age of Sail lasted from 1850-1870, and in the peak year of 1865, Nova Scotia built some 350 ships. By the end of the nineteenth century, over 26,000 ships had been built in the province, either for local use or for sale. Barques, barquentines, brigs, brigantines, schooners and full-rigged ships were all built along the shores of Nova Scotia.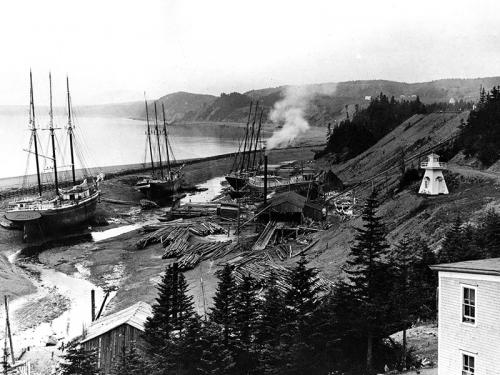 MP204.4.1: Port Greville harbour with logs being prepared for a timber raft, 1904.
Dynamic Industry 
The ships travelled all over the world exporting lumber, fish, agricultural products, gypsum and coal while importing goods such as molasses, spices, sugar and rum. Oil, iron, cotton and guano (excrement of seabirds and bats) were also transported. Building a ship employed many people, including skilled carpenters, joiners, shipwrights, sailmakers, riggers, blacksmiths and master carvers. By the 1890s, very few wooden ships were being built, as interest turned towards iron and steel and the building of steam-ships.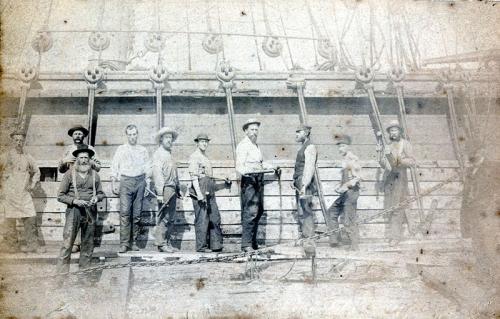 ​
MP300.3.1: Caulkers at work at the Ebenezer Cox Shipyard, Kingsport, NS, around 1890.
Our Exhibit 
As you walk around the gallery, you'll discover sailmakers' and carpenters' lofts; learn about William Roué, the architect of the Grand Banks fishing schooner, Bluenose; view models and paintings of ships, a collection of figureheads, artwork made or brought home by the sailors; and read stories about solo adventures on the high seas. Walk into the deckhouse from the coastal schooner Rayo: close your eyes, find your sea legs, and experience your own adventure on the seas.