Thanks to the Frowley and Bjerke families who joined our community partner Phoenix Youth Group in taking part in this season's Family Boatbuilding program. We've created an image gallery by day to capture their progress and the launch that happened on August 14 on our museum wharf.
We're taking bookings for the August 10-12,2016 edition of the program and hope to see you there!
Give us a call at 902-424-6440 or email us at richard.macmichael@novascotia.ca to reserve a spot.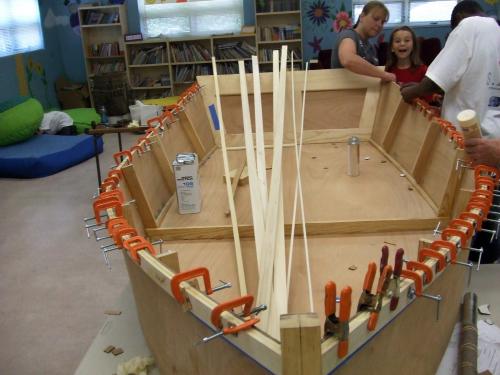 Family Boat Building, August 12-14, 2016
Inspired by the philosophy of the Alexandria Seaport Foundation, the museum team will be guiding two families who have signed up for this year's program through construction of an 11' 6" Bevins Skiff.   Three boats will be built at the museum, over the course of three days – and launched on Friday, August 14! Come see the build, the activity and fun as these families, along with museum staff, and this year's community organization, Phoenix Youth, as these skiffs take shape!
The Maritime Museum is in its second year of this exciting program, and we are growing this family boat building event as a community initiative.  We want to share our practical knowledge and boat building experience with participating families and non-profit organizations.  Your boat building team will have a complete (unpainted) Bevin's Skiff to take home at the end of the three days.
This year, the Maritime Museum is pleased to announce that Phoenix will be our Community Partner for the Family Boatbuilding Program. Phoenix is a non-profit, community based organization located in Halifax. With the help of donors, volunteers and community partners, Phoenix aims to meet the needs of young people aged 11 – 24 by providing a range of supports and services from the basic needs of food and shelter, to opportunities for personal development. Beyond those basic needs, their broad goals are to help youth achieve moments of success, create an attachment to a positive community, and empower them to believe they can change the trajectory of their lives.

For this event, we interpret "family" generously. Each team needs at least two adults (over the age of 18). Up to five people can be on a team. All participants should be over the age of 8 years as power tools will be used and would not be safe for younger kids. (All the basic parts-cutting will be completed before the event by our volunteers).

Boat Building Project Details
Who?           A team of up to five people, with at least two adults (ages 18 and over). All participants must be over the age of 8 years. No experience is necessary. 
When?          A commitment of three days in our museum boatshed
                      August 12-14, 8:30 AM – 4:30 PM
Where?        The Courtyard, Maritime Museum of the Atlantic
                      1675 Lower Water Street, Halifax, Nova Scotia
How much?   $750.00, taxes included. ($200 deposit at time of booking.)
Includes all materials (except paint). Some snacks and refreshments provided (bring your own lunch).
Your responsibilities:   You are required to take your boat home at the end of the third day.  In order to complete the project on time, certain building stages need to be completed by the end of each day.  You will need life jackets and oars for the launch on the final day.  Please dress appropriately – no open-toed shoes.  Sun hats and sunscreen encouraged.
Deadline?     Contact us as soon as possible as your family could enjoy this wonderful experience with us! Spaces fill up quickly – contact us soon as possible to reserve your space.