Since 2010, the Maritime Museum of the Atlantic has been reaching out to local arts groups interested in hosting special events in our Small Craft Gallery as part of our Fall and Spring Arts series (originally named Flagship Events).  Being a rich and diverse local cultural community, we are excited to be a possible venue for music, dance, performance, visual  or other cultural artists.
In partnership, artists agree to have their event as part of our Fall into the Arts/Spring into the Arts series as co-presenter.  It's also requested there be a discount to our membership.
2019 Spring into the Arts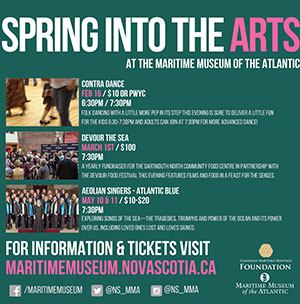 Contra Dance
Folk dancing with a little more pep in its step! Contra dancing is related to Square Dancing but uses different patterns that appeal to all skill levels and energize the room. Put on in partnership with Halifax Contra Dances -- www.halifaxcontra.ca
Devour! The Sea Fundraiser
Our third year with Devour! The Film and Food Fest for Dartmouth North Community Food Centre. Devour! The Sea is a special museum evening featuring local food and films; a feast for the senses in our historical setting!
Aeolian Singers – Atlantic Blue
Exploring songs of the sea – the tragedies, triumphs and power of the ocean.
2018 Fall into the Arts
The Northwest Passage in Story and Song
Join singer-songwriter David Newland for an evening exploring the mythical Northwest Passage through the Canadian Arctic.
Camino Flamenco by Flamenco en Rouge
A dramatic multimedia production on the theme of the journey. Passionate and virtuosic flamenco music and dance are framed by projections of Spanish art and textiles.
Forecasting the Canadian Wind
A national collaborative project between 5 wind quintets, 5 composers and 5 cities.
Oluseye, Nocturne Anchor Artist
Oluseye is a Toronto-based visual artist from Lagos, Nigeria, who explores themes of identity, spirituality, value and existentialism.  Presented as part of Nocturne: Art at night.
Water Colours – Songs of Water and the Sea
An intimate exploration of the imagery and poetry of Water and the Sea through the multi vocal genres of Contemporary, Jazz, Music Theatre, Opera, Lieder and Art Song.