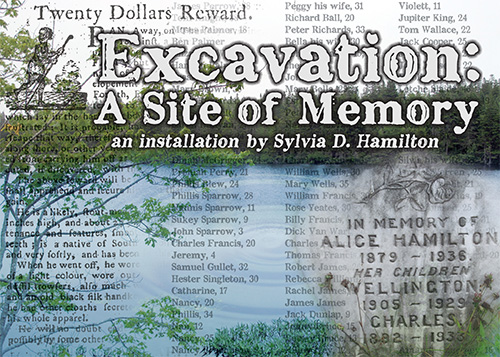 Photo Credit: Sylvia D. Hamilton, Graphic Design: Dan O'Brien, Design North
October 30 to November 30, 2014
Excavation: A Site of Memory is a multi-media installation-based exhibit by Sylvia D. Hamilton. Adjacent to Prize & Prejudice: Nova Scotia's War of 1812, both showing until November 30th, Hamilton focuses on 'site specific' elements that relate to the Black Refugees of the War of 1812 to enhance and extend the experience that visitors will have related to the Black Refugees in Nova Scotia.
"The Refugees depended on the land and all that could be used from it."
Hamilton's installation incorporates text, images (both still and moving), sound and found objects, and uses a personal and collective lens to frame her interrogation of the complex, linked concepts of memory, place and history in the African Nova Scotian community
Memory is a non-linear, non-chronological mobius strip; it is fluid, porous, a collage. In this temporal site of memory the real and the imagined co-exist.
Much remains unspoken about the historical fact that Nova Scotia was a
slave society, and the traces of its legacy haunt us still: in the names of
prominent Nova Scotians, in street names, in archival records and in churches.
Excavation visualizes the tangible markings of the enslavement of African people in Nova Scotia, through archival newspaper ads juxtaposed with photographic images, imagined poetic narratives, and everyday physical objects such as potatoes, ribbons and barrels. It also marks the resilience and imagination of  African people in Nova Scotia over many generations. Re-purposing archival material, she mines her personal history and that of her direct ancestors, The Black Refugees of the War of 1812, and her indirect ancestors, enslaved Africans in Nova Scotia. From wall scrolls containing thousands of names to a display case of personal archives, Hamilton suggests how memory is embedded in places where we least imagine.
The work on display underscores Hamilton's role in the community as filmmaker, writer and cultural note-taker. As a storyteller, she embraces the concept articulated by French historian Pierre Nora in which the installation itself becomes a temporal 'site of memory' where the real and the imagined co-exist. Sylvia D. Hamilton is descended from Black Refugees from the War of 1812 and her home community is Beechville, "Refugee Hill".
Slide show of Sylvia Hamilton's November 6th opening of her installation: Excavation: A Site of Memory, at the Maritime Museum of the Atlantic and images from her 2013 installation at Dalhousie Art Gallery.