The Museum has a long track record of publishing marine history research. The maritime museum's publishing program began in the 1950s under the banner of the Maritime Museum of Canada.  Publishing continued after 1967 through publications of the Nova Scotia Museum. The Maritime Museum of the Atlantic has also co-published some noteworthy works with regional publishers.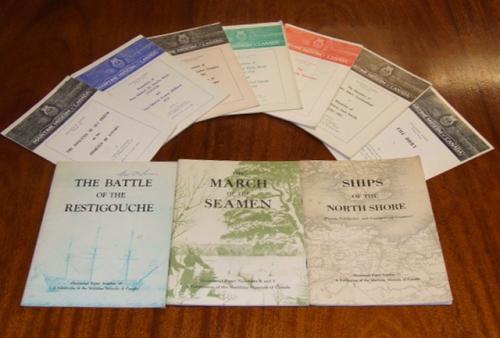 Some are now available online through the Nova Scotia Museum Publishing catalogue. Others may be consulted by visiting the Maritime Museum of the Atlantic Niels Jannasch Library.
Past Museum Publications
Highlighted publications are available online. Click to Access. Please note: These resources are presented as originally published. The content of older reports may not reflect the current state of knowledge on the topic documented. Please be aware of this when using this resource.
Titanic Remembered: The Unsinkable Ship and Halifax, Official Guide and Souvenir Book, Maritime Museum of the Atlantic, Alan Ruffman, Introduction by Dan Conlin, Formac Publishing (1999), 2nd Edition (2013)
The Nova Scotia Museum Isle Haute expedition, July, 1997, Nova Scotia Museum. Curatorial Report ; No. 90  (2000)
Tracing the built form of HMC Dockyard, Brent Raymond, Nova Scotia Museum. Curatorial Report; No. 88 (1999)
Sailing Ship Rigs, McBride, Graham; Info No. 31, Nova Scotia Museum (c.1983), new edition 1999. 
Terror on the Coast : the Wreck of the schooner Codseeker, Easton, Alan, Nimbus Publishing,  Co-published by the Nova Scotia Museum.  (1992)
Following the Sea, Doane, Benjamin, Marven Moore (introduction), Co-published by Nimbus Pub. Ltd. and the Nova Scotia Museum (1987)
A guide to the maintenance of the Theresa E. Connor and Cape Sable : a curatorial report prepared for Fisheries Museum of the Atlantic, Lunenburg, Nova Scotia, David Walker (1984)
The Sea Road to Halifax : being an account of the lights and buoys of Halifax Harbour, Pullen, H. F. (Hugh Francis), Occasional paper (Maritime Museum of the Atlantic) no. 1, (1980)
Novascotiaman, Crowell, Clement W, Nova Scotia Museum (1979)
The Circus Ship Fire, Goodwin, Helen, Published by Firefighters Museum of Nova Scotia with the assistance of the Nova Scotia Museum,  (1977)
One hundred years of oceanography : essays commemorating the visit of H.M.S. Challenger to Halifax, May 9-19, 1873, Dalhousie University and Nova Scotia Museum,  (1975)
The Woodcarvers of Nova Scotia, MacLaren, George, Nova Scotia Museum Occasional Paper ; No. 10 ,  (1971)
The Great Ship -  The Ship William D. Lawrence,  MacMechan, Archibald, Nova Scotia Museum,  1967
Ships of the North Shore : Pictou, Colchester and Cumberland counties, Occasional Paper No. 11;  Blakeley, Phyllis, (Maritime Museum of Canada) Occasional Papers; No. 11 (1963)
The Battle of Restigouche : the last naval engagement between France and Britain for the possession of Canada, Occasional Paper No. 10;  Little,  C.H. (Charles Herbert)  (Maritime Museum of Canada) Occasional Papers , No. 10,  (1962)
The March of the Seamen ; the story of H.M. Armed Schooner Tecumseth; Occasional Papers No.8 and 9 Pullen, H. F. (Hugh Francis),  (Maritime Museum of Canada) Occasional Papers, No. 8-9,  (1961)
The Dory, Nicholson, F.W. (Frederick W.), Occasional papers (Maritime Museum of Canada) ; No. 7 (1960)
The recapture of Saint John's Newfoundland : despatches of Rear-Admiral, Lord Colville, 1761-1762,  Occasional Paper No. 6;  (Maritime Museum of Canada) Occasional Papers,  No. 6 (1959)
The two hundredth anniversary of the Halifax dockyard, Occasional Paper No.5; Watson, P. H. (Peter Heriot), 5 (Maritime Museum of Canada) Occasional Papers, No. 5 (1959)
Despatches of Rear-Admiral Philip Durell, 1758-1759 and Rear-Admiral Lord Colville, 1759-1761; Occasional Paper No. 4 (Maritime Museum of Canada) Occasional Papers, No. 4, (1958)
Despatches of Vice Admiral Charles Saunders, 1759-1760 : the naval side of the capture of Quebec; Occasional Paper No. 3 (Maritime Museum of Canada) Occasional Papers; No. 3, (1958)
Despatches of Rear-Admiral Sir Charles Hardy, 1757-1758 and Vice Admiral Francis Holburne, 1757; Occasional Paper No. 2 (Maritime Museum of Canada) Occasional Papers ; No. 2, (1958)
The influence of sea power on the conquest of Canada, Occasional Paper No. 1 ; Little, C.H. (Charles Herbert), (Maritime Museum of Canada) Occasional Papers; No. 1, (1958)