New additions to Titanic Exhibit
Mortuary Bag and Artifacts
The Maritime Museum of the Atlantic is pleased to unveil a display of recently acquired artifacts associated with the sinking of the RMS Titanic.
Acquired this past October, the artifacts are valuable additions to the Museum's permanent Titanic exhibit, which tells the story of Halifax's connection to the ill-fated vessel. Their purchase was made possible through the support of the Nova Scotia Museum Endowment Fund, administered by the Nova Scotia Museum Board of Governors.
The new items included in the exhibit are as follows:
Mortuary Bag
The mortuary bag was sewn aboard the Halifax cable ship Mackay-Bennett and was used to safeguard the personal effects of Body No. 41, 33 year-old Edmund Stone, a First Class bedroom Steward from Southampton who was buried at sea.
The core of the system for body recovery and identification, mortuary bags were made aboard ship as the bodies were found and they proved very effective in keeping victims' personal effects together, both on the ship and in the morgue. This system was so successful in the process of identifying bodies and returning personal effects to families, that the coroner during the Halifax Explosion followed the Titanic example and made identical bags for the personal effects of Explosion victims.
Wreckwood Rosette
The wreckwood rosette belonged to William Parker, a Nova Scotian carpenter aboard the Halifax cable ship Minia. who participated in the recovery of Titanic victims. Like many sailors, Parker collected several pieces of floating Titanic debris to keep as mementos of the historic disaster.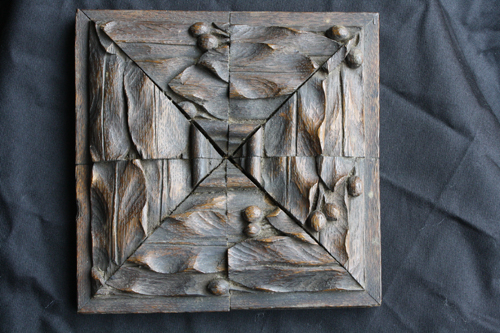 Parker crafted the decorative rosette out of eight pieces of the oak balustrade from the ship's grand staircase. Titanic wreckwood is the specialty of the Maritime Museum's Titanic exhibit and many of the pieces in that collection were made by Parker, such as a cribbage board he crafted from Titanic oak. The addition of the rosette further enhances the significance of this unique collection.
Photograph and Cap Badge
The photograph and cap badge included in the display also belonged to William Parker. The signed photograph is of Parker himself, dressed in the cable company uniform he wore aboard Minia, while the his cap badge came from a different cable ship uniform he most likely wore aboard another vessel during his 45 year career at sea.
Already in possession of Parker's sea chest and the tools he used to craft his wreckwood pieces, the Museum was eager to obtain the photograph and cap badge as both objects further illustrate this regular Nova Scotian who played a small role in Titanic's history.