Why the Niels Jannasch Library?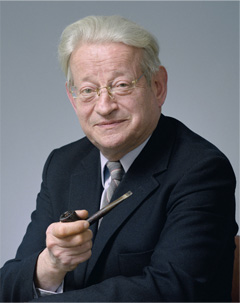 Niels Jannasch, photo credit:
Nova Scotia Museum
After two years of renovations, the Maritime Museum of the Atlantic (MMA) on July 5, 2011 was re-opened and dedicated as the Niels Jannasch Library.
Niels Windekilde Jannasch was the first director of the Maritime Museum of the Atlantic. He worked tirelessly as director from 1959 until 1985, taking the MMA from a little private museum with a one-man staff and no permanent home to a major historical waterfront institution of international repute. Niels was a rare combination of a seasoned professional mariner and serious scholar, with an especially deep love of books and literature. He had a passionate commitment to books as a critical tool to protect and promote knowledge. This was re-enforced by searing memories of Nazi book burnings experienced in his German hometown in the 1930s. Niels read everything connected to the sea, fiction and non fiction, and in multiple languages. He acted as editor and advisor on countless books published in Atlantic Canada. In the 1960s, Niels wooed a wealthy Ottawa nautical collector named Arthur Hardy to donate his large personal library which formed the nucleolus of the museum's present library.
For those of us lucky enough to have met him, Niels mastery of practical and academic approaches to seafaring came from almost legendary roots. Born on July 5, 1924 in Holzminden, Germany, he came from a family who, for several generations, had sailed wooden sailing ships to supply Moravian missions in Labrador. In World War Two, Niels was in the German navy, serving in minesweepers and patrol boats based in France and Norway, ironically facing across the English Channel the Canadian navy officers who would later hire him for the museum in Halifax. After the war he sailed in merchant ships all over the world. Most notably he worked as bosun aboard the giant four-masted sailing barque Passat, one of the last deep sea vessels in the world to carry cargos by sail alone. Niels sailed on voyages shipping grain from Australia to Europe aboard Passat making some legendary passages around Cape Horn which are known among old salts as "The Last Grain Races". Niels married Barbara Dierig in 1952 and the couple emigrated to Halifax, Nova Scotia. Niels had previously visited Halifax as a mariner and fell in love with the province. He was hired as director by the band of Canadian naval officers who had founded the Maritime Museum of the Atlantic in 1948 but, until Niels, had relied on various naval officers acting as part-time curators.
Niels retired in 1985, but continued to contribute and assist the museum and its library. Whenever a meeting took him downtown, you could count on finding him perusing the latest nautical journals and new books in the library. He was a founder and charter member of the Canadian Nautical Research Society. His deep knowledge and tireless contribution to many heritage organizations had made him "an icon of the maritime history fraternity in Canada and aboard." For his contributions to scholarship, he received an horourary doctorate from Dalhousie University and was appointed to the Order of Canada in 1991. Niels also continued go to sea, taking vacations in many years by working as second mate in cargo and mail ships. Just weeks before his death he was working on plans for an Antarctic voyage.
Niels died at his home in Seabright, Nova Scotia on November 9, 2001. The museum has previously honoured Niels by naming our replica sailing sloop Windekilde after his middle name. However naming the library in his honour is an ideal way to recognize a man who was as comfortable explaining rigging an auxiliary stay sail as he was discussing the evolution of postwar European fiction.
 
Dan Conlin, former Curator of Marine History (April, 2014)