Please note: The LEGO Stop Motion Animation workshops are unfortunately cancelled for this season and LEGO Robotics with Mike Duggan of NSCC is on hiatus and the museum will re-evaluate in 2020. A sincere thanks to the participants and their parents/guardians who have had great learning experiences in creating and building with us over the years!

LEGO Stop Motion Animation User Club 2019 – the last for this season
Saturday April 13th from 10:00 – 12:00 pm (included with museum admission)
This is our monthly Museum LEGO Stop Motion Animation "Users Club" gathering, under the guidance of instructor Jenna Marks.
Jenna Marks is an experimental and narrative filmmaker with a strong focus in animation. She graduated from NSCAD in 2013 with a BFA and a major in film. Following her graduation, Jenna was accepted into the National Film Board's prestigious animation apprenticeship program; Hothouse, in Montreal. Jenna's films have played internationally and have gained awards at Germany's, International Film Festival Stuttgart and Canada's own Atlantic Film Festival.
**LEGO Stop Motion Animators should bring a small bit of LEGO, as well as project ideas and storyboards that you would like to create on your Smart Phones or tablets or thumb-drives (don't forget your chargers). The software app that can be downloaded online is: 'Stopmotion Studio' from the iTunes App Store.
Suggestions for our upcoming season of LEGO Stop-Motion Animation work sessions:
Work with a small scene – everything you use should fit into a small shoebox
Plan your scene with 3-4 characters
Have a written story idea that has a beginning, middle and an end
Your theme could be a nautical story or land & sea story
Think about how the characters relate to each other
We will provide:
A background if you need oneDrawing paper and pencils for your story board
To register
Please enroll in advance for this program by contacting Jeanne Church at jeanne.church@novascotia.ca or 424-7491
The cost is included with Museum admission (youth $3.10) or with your MMA or NSM Season Pass
Upcoming schedule: (i.e. every 2nd Saturday in 2019)
It's Show Time – participants are invited to present their recent productions on the 'big screen' during the 2nd hour of the session. Parents & family are invited to attend.
* Season Passes might be an idea for youth or family for the Maritime Museum or an NSM pass for all 28 Nova Scotia Museums*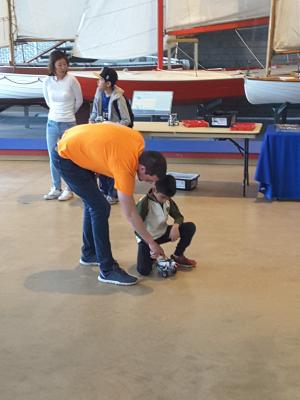 'First LEGO League' (FLL) – Robotics – 2019 – the last for this season
Accelerate Learning Using Bricks and Code with NSCC.
Saturday April 20th from 2:30 – 4:30 pm (included with museum admission)
Come to the Maritime Museum to work with the Nova Scotia Community College for a LEGO Robotics demonstration and learn what makes these little marvels go.  FIRST LEGO League (FLL) gets youth ages 9 to 14 involved in playful and meaningful learning while helping them discover the fun in science and technology. Learn about upcoming competitions here in Nova Scotia to test their programming skills on some of the actual challenges facing teams. www.firstlegoleague.org/about-fll
Mike Duggan of NSCC, an enthusiastic science educator and consultant with experience working in museums, private and public schools and non- profits will be hosting walk-in sessions about LEGO Robotics during which he and other NSCC faculty members will be demonstrating how to construct and program a LEGO robot using a PC. Visitors will then have an opportunity to assemble, program and test the active movement of their small LEGO robot.
All materials will be provided by the Museum and NSCC. So, come explore, build and experiment. Parent accompaniment recommended. Great for ages 9 and up. Pre-registration is not required for this program.