As Registrar, I have the pleasure of collecting and handling all kinds of artifacts: from small to large, fragile to robust, and from inexpensive to one-of-a-kind items.
At this time of the year, it is always fun to go into the museum's storage rooms, like elves in a toy room, searching for items that convey the holiday spirit to share with the world. This year we have selected some nautical Christmas cards and two ship models with a heart-warming Christmas story.
A couple of these ship models are quite different in comparison to the hundreds of others in our collection.  These are the "Gursky models" which are so unique that, when I was cataloguing them, members of the Ship Model Guild asked me whether we should collect such models for our maritime collection.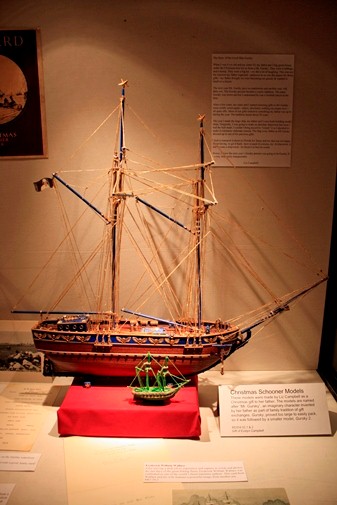 My answer was: "These are indeed unique models, they are not replicas of a typical Nova Scotian ship or made by a Nova Scotian shipbuilder, ship owner or a professional ship modeler, but they were built by a young Nova Scotian lady and her father, and the purpose was to tell a family story."  I felt that an exception should be made and that we add these to our collection.
Lynn-Marie Richard
Maritime Museum of the Atlantic Assistant Curator and Registrar