7:00 pm
Just ten years ago now there was a flurry of press coverage about the British warship HMS Fantome, because a Cape Breton treasure hunting company had received a permit to explore the brig's wreck site at Prospect, Nova Scotia.  The press articles made frequent mention of the possibility that Fantome was loaded with 'loot' from the British raid on Washington in August 1814 when she struck bottom and sank just off shore in Shad Bay. 
Furthermore, Fantome had indeed been with a British flotilla in Chesapeake Bay during the War of 1812, and silver coins had in fact been found on the wreck site by local divers.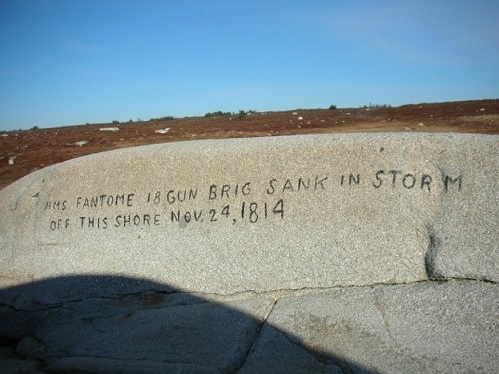 But then the Eastern Argus of Portland, Maine, printed a report dated December 5, 1814: "Latest from Halifax.  A Gentleman … who left Halifax on the 27th [of November] informed …that the British sloop of war Fantome, rating 18 guns, with a convoy consisting of [four vessels] from Castine bound to Halifax were TOTALLY LOST, about the 22d or 24th ult[imate]. … The Passengers, specie and letters, were saved. …".
So, the question arises: if the passengers, specie [coins] and letters were saved, why would there be any coins on the wreck site today.  And anyway, if Fantome were coming from Castine, Maine, how could she be carrying 'loot' from the raid on Washington?  This illustrated talk by Professor emeritus George F. W. Young from Saint Mary's University will try to answer those questions based on research in Royal Navy documents.
Professor Young is the author of The British Capture & Occupation of Downeast Maine 1814-1815/1818.
For additional information:
Richard MacMichael
902-424-8897
richard.macmichael@novascotia.ca