February 13th, 2018 at 7:00
William A. White was born on June 16th, 1874 in Virginia to former slaves and moved to Nova Scotia in 1899 to attend Acadia University. From there his life became a series of "firsts" and other milestones as he blazed trails and laid the groundwork for future generations of Black Canadians to pursue their dreams. He was the second black person to be accepted into Acadia University, the third African Nova Scotian to earn a university degree, and was the first person of colour to be awarded an honorary doctorate in Canada when Acadia University presented him with an Honorary Doctorate of Divinity in 1936.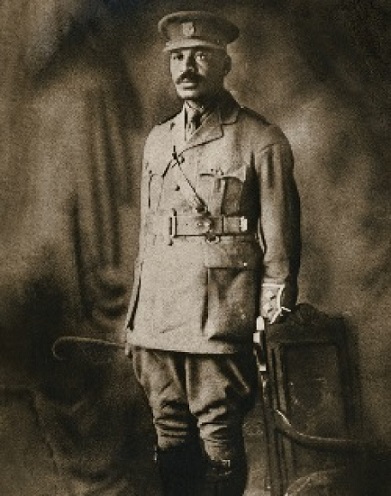 Reverend White was ordained in 1903 and became pastor at the Zion Baptist Church in Truro in 1905. Upon the outbreak of the First World War, Reverend White played a part in the enrollment of blacks in previously segregated units and ultimately Reverend White became the first and the only Black commissioned officer in the Canadian Expeditionary Force (CEF) when he enlisted in the No. 2 Construction Battalion on February 1st, 1917. In his role as Chaplain for the CEF's only segregated unit, Reverend White fought for the equal treatment of black soldiers both in Canada and overseas. He preached race consciousness, inspired advocacy and social advancement, and provided spiritual support for "the boys" of the No. 2 Construction Battalion.
Danielle Pittman is a member of the Qalipu Mi'kmaq First Nation born in Corner Brook, Newfoundland and raised in Porters Lake, Nova Scotia. She received her Bachelor of Arts with Honors in History from Mount Saint Vincent University in 2012 and her Masters in History from Brock University in 2014. Her honors thesis, "Moving Mountains: The No. 2 Construction Battalion and African Canadian Experience During the First World War," traced the wartime experience of Canada's Black Battalion from the formation of the battalion through to their overseas service and post-war disbandment. This particular project launched her fascination with identity formation, minority experience, and race relations in Canada on which she speaks annually. Her research interests include women and minorities' wartime experience and civil rights movements. Outside of academia, Danielle works full-time with the Victorian Order of Nurses, and is the Commanding Officer of 117 Preston/Westphal Royal Canadian Army Cadet Corps in East Preston, Nova Scotia.
For additional information:
Richard MacMichael
902-424-8897
richard.macmichael@novascotia.ca