7 pm – 8 pm, free
The Fine Tuners are a Celtic fiddle group based in Halifax, Nova Scotia featuring Andrew Touesnard on fiddle, Stephen MacNeil on double bass and Ross Billard on piano. Andrew and Steve met in 2009 at the Keith's Brewery Farmers Market and can now be found every Saturday at the Seaport Farmer's Market. 
Andrew Touesnard began playing fiddle in 1993 at the age of six. He has gone on to appear in television and film and now performs around Nova Scotia with several acts like Tom Bedel and the Shakes, Jen Miller, Warehouse and the Halifax Music Co­ Op. Stephen MacNeil is a graduate of the St Francis Xavier University Jazz Performance program. In 2016 you can catch Stephen backing up E.B. Anderson and the Resolutes, Lynnea Rose, The Big Island Trio, lulu Kelly & The Departments and The In Crowd.Ross Billard is a first call session musician, producer and engineer in Halifax. Catch him on Matt Anderson's CD 'Weightless'.
The Fine Tuners have recorded three CDs of Cape Breton toe taping fiddle tunes and are working on a new CD featuring all original material, set for release in 2016.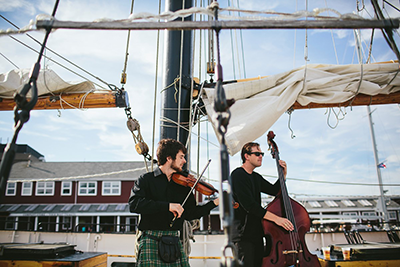 ​