August 23, 2019

to

August 25, 2019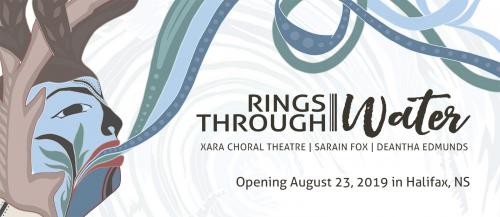 ABOUT THE SHOW
Rings Through Water is an interdisciplinary creation between three artists, two Indigenous and one Settler. Through choral singing, contemporary and traditional Indigenous dance, powerful text and theatrical presentation they will tell three short stories. These short stories will speak for water, lift up the voices of its protectors, and amplify the voices of the missing and murdered Indigenous women who have met their end in it. 
ABOUT THE PERFORMERS
Xara Choral Theatre Ensemble ( http://www.xara.ca/) is based in K'jipuktuk/Halifax and regularly tours across Canada as well as internationally. Their shows are a feast for the senses, featuring choral singing, movement, lighting, costumes, and more. 
Sarain Carson Fox is an internationally recognized contemporary Anishinaabe dancer, choreographer, activist, and educator. She is the host of Viceland's RISE and APTN's Future History. 
Deantha Edmunds is Canada's first and only Inuk soprano and classical recording artists. Also a poet and song-writer, her second album is forthcoming in 2019. 
Christina Murray is artistic director of Xara Choral Theatre Ensemble and head of choral studies at Dalhousie University. She approaches her conducting practice through the voice and is known for her innovative programming and her visionary commitment to decolonizing the choral art form.