7:00 pm
Join Beth Amiro of Surfing Nova Scotia for a look at the history of one of Nova Scotia's most challenging and rewarding pastimes.
It is almost certain that Lawrencetown Beach is the Birthplace of surfing in Canada. The story goes that the Landymore Brothers first surfed here in July of 1963 when their dad, a navy captain, brought 2 surfboards home from his journey. So, there is a long(ish) history here, we're about 3 generations in (men) and about 1.5 generations in for women. The appeal of it is that conditions vary from very cold to slightly cold, meaning there's a certain wildness to surfing here. It's not easy…you need good gear, access to a car, and there's always a risk of hypothermia. This also means that people who surf are dedicated to it. Nova Scotia's coastline is still very wild too…so when you're surfing you sense that the air and ocean are clean. There are fewer people who surf here as compared to California or BC, it's a smaller tight-knit community. But the reason people surf is that they love the ocean…they love being in and on it, and riding waves is an unparalleled experience. At the core, that is why surfing is so popular. It takes a lot of dedication and determination to get good at it, but there's always something to enjoy about it, no matter what your skill level.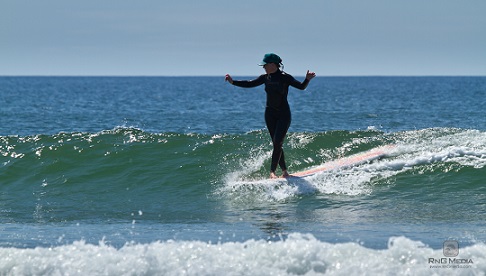 Image courtesy of RnG Media and SANS
Established in 1987, the Surfing Association of Nova Scotia is a community-based non-profit organization dedicated to: building an inclusive, fun and respectful surf community; supporting recreational and amateur surfing; and promoting a sustainable surf culture. They hold Surf Contests and learn to surf programs, beach clean ups, address coastal access issues, provide a hub for the surfing community to come together on issues that affect the community, provide athlete assistance to surfers wishing to compete internationally and represent the surfing community when it comes to protecting coastal areas and infrastructure.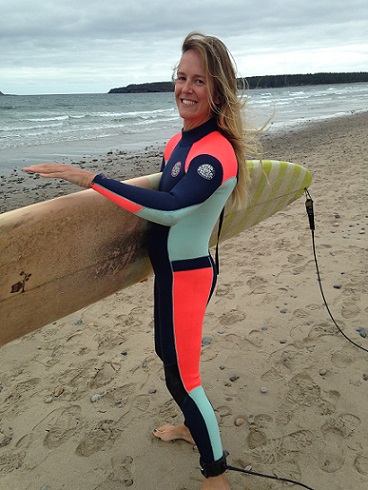 Beth Amiro is from Halifax and started surfing in 1998 at the age of 19. In 2005, she started a women's surf school with some friends which was in operation until 2013. She's been involved with SANS since 2014 and has been the president for the past 2 years. She is passionate about serving underserved communities and removing barriers to access to surfing for these communities and believes that if more people care and connect to the ocean through surfing, they will be more motivated to help protect it. We are at a time in history where it is an emergency…we must act now to clean the ocean of plastic and conserve and protect ocean life.
For additional information:
Richard MacMichael
902-424-8897
richard.macmichael@novascotia.ca