7 pm
As Remembrance Month draws near, the Maritime Museum of the Atlantic is pleased to welcome Bill Green of Remembering Canada's Heroes, a Canadian Registered Charity bringing interesting Canadian Historical Events to the attention of High School Students in Atlantic Canada.
In 2004, following his retirement after 30 years of International Banking, Bill Green took a 5-year contract as the Executive Director of "Friends of HMCS Haida" after the WW ll warship was re-located from Toronto to Hamilton, Ontario. One of "Friends" Directors was Head of History at a Hamilton High School and after reviewing several high school textbooks, they created a one-hour Canadian WW ll History presentation describing events which they felt needed to be incorporated in future textbooks
Upon re-locating to Nova Scotia (Annapolis Royal Academy, Class of '57) Bill decided to continue the school visit program under a new Registered Charity: Remembering Canada's Heroes, which takes WW ll, Korean War, Cold War and Peacekeeping Veterans into High School History classrooms in Atlantic Canada to deliver one hour presentations describing several important Canadian achievements since September 1939 which have been omitted or are understated in High School History textbooks in use in schools today.
For example, he explores a number of themes centering around the roles played by the men and ships of the Royal Canadian Navy and our Merchant Navy during World War Two. Many of these themes and their importance are absent from high school curriculums across Canada, something which Remembering Canada's Heroes project continues to address.
In this presentation, Bill will explore the careers of two men, one in the Royal Canadian Navy and the other serving on a Norwegian vessel that each had an encounter with the same German U-boat in 1941.
George Evans of St. John's NL did his part for the war effort when he signed on with a Norwegian freighter DS Einvik out of St. John's in late August of1941. In mid-September, Einvik was torpedoed by U-501 south of Iceland. All 21 crew members, including George exited EINVIK in 2 open lifeboats and spent 10 days rowing to Iceland. Years later, when being interviewed by Bill Green, George was amazed to learn that U-501 was sunk by HMCS Chambly just five days after Einvik was lost and he was rowing in the open lifeboat to Iceland.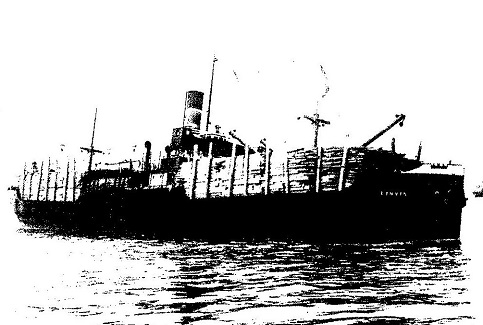 The Norwegian Merchant Vessel, SS Einvik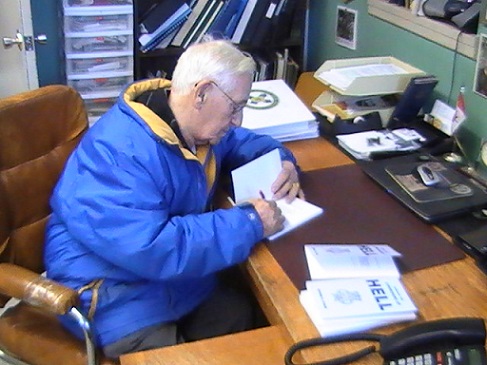 George Evans, signing copies of his book, Thru the Gates of Hell.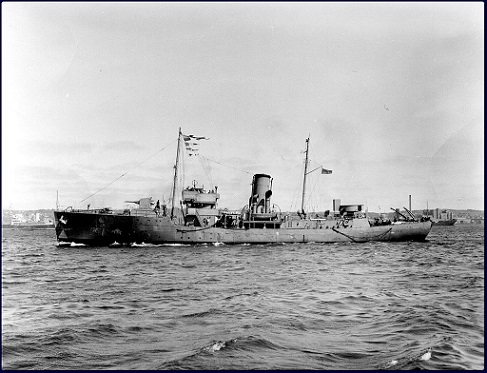 HMCS Chambly – 1941 - Photo Credit National Defence - Canadian Navy Heritage website.
A boarding party from Chambly, led by Lieutenant E. T. Simmons, attempted to take possession of the submarine. The attempt had to be abandoned, because the U-boat was sinking rapidly. One member of Chambly's crew, William Irvin Brown, drowned during the operation. Like the more than 200 crew members of the 15 merchant ships in the SC-42 convoy sunk by German submarines, the Toronto native, father of a one-year-old daughter, gave his life to supply Great Britain and the armed forces protecting it. Many other Canadians also lost their lives during the Battle of the Atlantic.
Eugene Tobin who served in HMCS CHAMBLY was a member of the boarding party after U 501 was brought to the surface in September of 1941. U 501 was the first German submarine captured by the RCN without assistance from Britain's Royal Navy. Signalman Eugene Tobin received a Distinguished Service Medal "For bravery and enterprise in action against enemy submarines" during his service aboard HMCS Chambly. He died on 08 January 2010 in Dundas, Ontario at the age of 88.
For additional information:
Richard MacMichael
902-424-8897
richard.macmichael@novascotia.ca