7:00 pm
The Maritime Museum of the Atlantic and the Titanic Society of Atlantic Canada are pleased to welcome Professor Eric L. Clements, who will be giving a presentation on his new book, Captain of the Carpathia: The Seafaring Life of Titanic Hero Sir Arthur Henry Rostron which will be published on 26 April 2016 in North America.
Responding to Titanic's distress calls in the early hours of April 15, 1912, Captain Arthur Rostron raced the Cunard liner Carpathia to the scene of the sinking, rescued the seven hundred survivors of the world's most famous shipwreck, and then carried them to safety at New York.  The competence and compassion he displayed during the rescue made him a hero on two continents and presaged his subsequent achievements.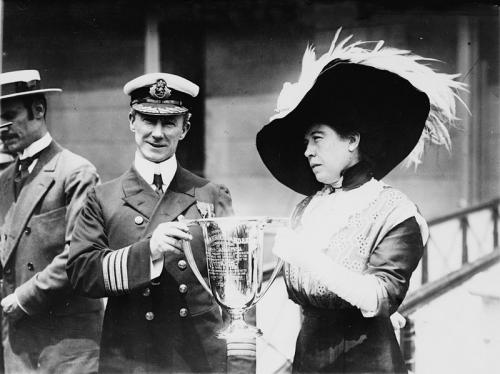 Arthur Rostron with Molly Brown at a ceremony where she presented a silver loving cup to the Captain to show appreciation to him for his efforts in rescuing the survivors of the sinking of RMS Titanic.
During the First World War Rostron participated in the Allied invasion of Gallipoli and commanded Cunard's legendary passenger liner Mauretania, first as a hospital ship in the Mediterranean and then as a troop transport in the Atlantic.  After the war he remained master of that extraordinary vessel in transatlantic passenger service through most of the 1920s.  Rostron retired in 1931 as the most celebrated master mariner of his era, esteemed for the Titanic rescue, decorated for his war service, and knighted for his contributions to British seafaring.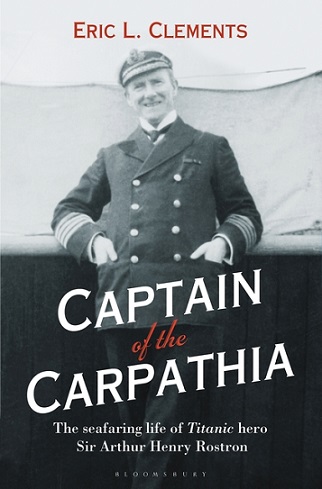 This biography of Arthur Rostron uses newspaper reports, company records, government documents, contemporary publications, and mariners' memoirs to tell the story of Rostron's seafaring life from his first voyage around Cape Horn in sail as an apprentice to his retirement forty-four years later as commodore of the Cunard Line.  Set within the context of his era and featuring the ships in which he served and commanded, this is the first comprehensive study of Arthur Rostron's life before, during and after his year as Captain of the Carpathia.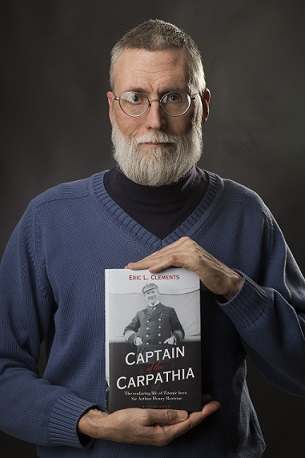 Eric Clements is professor of history at Southeast Missouri State University in the United States.  The Atlantic liners were his earliest historical interest, one that led him to serve an enlistment in the U.S. Coast Guard and to write this book.  He is also the author of After the Boom in Tombstone and Jerome, Arizona: Decline in Western Resource Towns (University of Nevada Press, 2003, reissued 2014), and of numerous articles and book reviews about the history and historic preservation of the American West.  His other research projects include a history of the Second World War-era, U.S. Coast Guard cutter Mohawk written for his master's thesis and two vessel histories contributed to the Historic American Engineering Record.
For additional information:
Richard MacMichael
902-424-8897
richard.macmichael@novascotia.ca