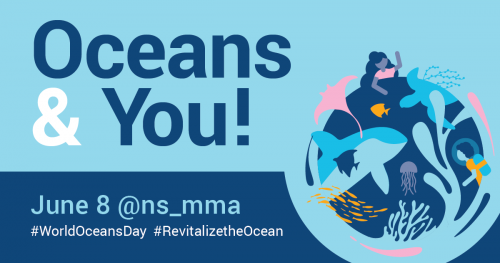 We are back to celebrating and sharing our responsibility to protect the oceans in person! Join us for our flagship, annual #WorldOceansDay event at the Maritime Museum of the Atlantic!
Declared by the United Nations, this year's theme is Revitalization: Collective Action for the Ocean.
Our participating organizations will engage, inspire, educate and celebrate our connection to the oceans.
Participants include: Raina the Mermaid, Maritime Aboriginal People's Council, Friends of McNabs Island, and Department of Fisheries and Oceans – Marine Planning and Conservation Program.
All are welcome, with free admission for youth (17 years of age and under)!
Follow us for event and participant updates on social: twitter.com/ns_mma instagram.com/ns_mma/ and facebook.com/maritimemuseum
#OceansandYou #WorldOceansDay #RevitalizetheOcean #cheersto40yearsMMA