6:00 pm
As a grand finale of our celebration of African Heritage Month, the Maritime Museum of the Atlantic is pleased to present a screening of the documentary film, Soul on Ice, by filmmaker Damon Kwame Mason.
Soul On Ice: Past, Present, and Future presents and retells the virtually unknown contributions of black athletes in ice hockey.  For decades, hockey was seen as a homogeneous sport - exciting to watch but played by one kind of player.  Soul On Ice presents the exploits of athletes who dared to stand out, and dared to make the sport their own.  These Black athletes dared to give their sport soul.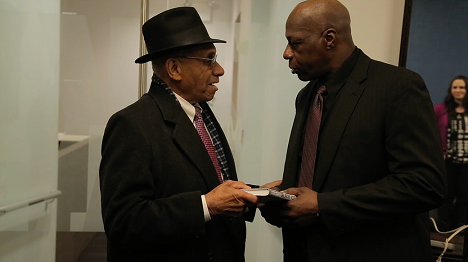 Willie O'Ree, from Frederiction, New Brunswick and Val James. Willie broke the colour barrier in the NHL and Val was the first black American to play in the League. (Photo: Courtesy of Top Shelf Productions)
At the heart of the story is Jaden Lindo, a young man chasing after his lifelong dream to play in the NHL. The film follows Jaden in the most important year of his hockey life, mirroring the journey that many other black athletes have faced to make it to the NHL.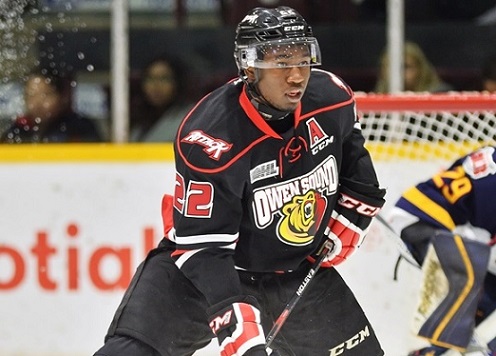 Jared Lindo with the Owen Sound Attack of the Ontario Hockey League. Jared was drafted by the Pittsburgh Penguins in 2014.
Some of today's top NHL stars and former players join us on our journey through history, through in-depth personal interviews. Wayne Simmonds, Joel Ward, Trevor Daley, Mike Marson, Tony McKegney and five-time NHL Stanley Cup winner Grant Fuhr are just a few of the players and contributors who share their experience that helps bring the story to life. We also connect with the next generation of stars, including Joshua Ho Sang, Jaden Lindo and Malcolm Subban. Several hockey experts and writers weigh in, adding anecdotes and insight. Beloved hockey personalities like Don Cherry, former NHL goalie and now analyst Kevin Weekes and Elliotte Friedman of Hockey Night In Canada. 
For the first time, Soul On Ice: Past, Present and Future sheds light on a subject hardly spoken of.  The face of hockey is changing and this film shows us it has been in the making for a long time.
To introduce the film, we'll have some special guests from the local hockey community to speak about their own experiences.
This special screening of Soul on Ice is presented in cooperation with the Department of African Nova Scotian Affairs, who we would like to thank for their tireless efforts and support of this celebration.
For additional information:
Richard MacMichael
902-424-8897
richard.macmichael@novascotia.ca