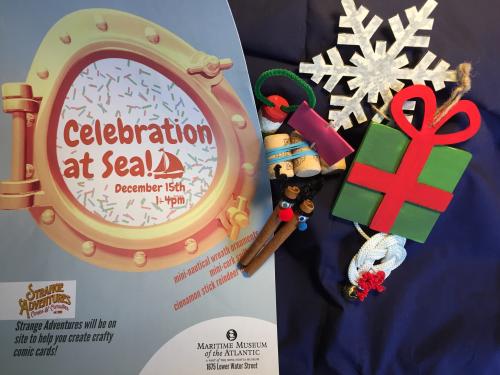 ​
1 pm to 4 pm
The Maritime Museum of the Atlantic shares its Maritime winter traditions and crafts with our visitors to enjoy the season!
Join us in making mini-nautical wreath ornaments, mini-cork sailboats and cinnamon stick reindeer ornaments. During your visit, all are welcome to seek and find holiday heritage facts throughout our museum, admire the whimsy of ship greeting cards from time's past and enjoy festive National Film Board flicks in the museum's Warehouse Theatre.*
From our wonderful comic neighbours across the street, Strange Adventures will be on site to help you create crafty comic cards! Thanks to JJ Steeves and Addison Johnston and Calum for helping out!
There's still time to bring in a donation for our annual Mission to Seafarers Shoebox Campaign, as it wraps up on December 16. For this charity collection, mariners from all over the world who find themselves at a Halifax port during the holidays will receive personal items to make their stay more warm and comfortable. , We are requesting donations of toiletry items and are in particular need of deodorant, shaving cream, shampoo and soap. Thanks for sharing!
*All activities are included with museum admission. Crafts subject to change without notice.