7 pm
David Kaplan presents the history of the Harland & Wolff Shipyard from its founding, its shipbuilding through the years and its association with the White Star Line. David will also discuss the shipyard as it appears today, including the most recent Titanic Quarter project. Titanic's construction is emphasized. An overview of Titanic Belfast Museum and the new Titanic Belfast Hotel are featured in this talk, co-sponsored by our friends with the Titanic Society of Atlantic Canada.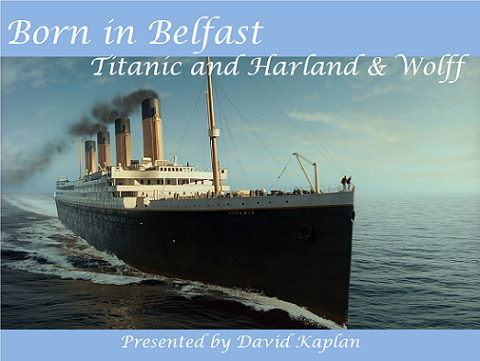 David Kaplan was born and raised in the Washington D.C. suburb of Silver Spring, Maryland.  After graduating from the University of Maryland with a degree in education, he taught electronics, power mechanics and drafting for 30 years in the Maryland's Montgomery County Public Schools system. His interest in the Titanic began when he was nine years old while watching the 1953 movie "Titanic" starring Clifton Webb, Barbara Stanwyck and Robert Wagner.  Even though it wasn't a great movie, it caught his attention.  From that point on, he has been studying the tragedy, the ship and its passengers.  David has been a member if the Titanic Historical Society for over four decades and subsequently joined the Titanic International Society and the Titanic Society of Atlantic Canada.  Over that time, he has been lucky to meet eighteen survivors, some more than once.  David has had the pleasure of meeting with Millvina Dean several times.  She was the last living survivor as she passed away in May 2009.
David has visited a number of Titanic related places numerous times in the UK and Ireland.  In addition, he made a visit to the ship's sinking location in the North Atlantic Ocean while the Imax movie "Titanica" was filmed. 
Over the years, David has collected a variety of artifacts.  In addition, he has constructed various display models of the ship and the disaster.  David has given many presentations to schools, hotels, service organizations, libraries, museums, churches, community groups, military groups and senior centers.  More recently, he has also given presentations on board the Queen Mary 2 and the Queen Elizabeth. Later this year, he will be presenting in Canada, England and Scotland.
David enjoys worldwide travel on the world's seas.  He has sailed 416 days with the Cunard Line (which includes 36 Trans-Atlantic crossings) and 152 days with other cruise lines. 
For additional information:
Richard MacMichael
902-424-8897
richard.macmichael@novascotia.ca