7:00 pm
Join The Big Island Trio in the Celebration of Traditional Celtic and East Coast Music! The Trio is excited to announce the debut of their first studio album "Songs From The Kitchen"
Gary Foley (Vocals and Acoustic Guitar), a native of Newfoundland, grew up listening to family and friends playing traditional music primarily in his family's kitchen. The notion of music and culture in the context of the kitchen largely influenced The Big Island Trio's "Songs From The Kitchen" Debut Album.
Steve McNeil (Stand-up Bass and vocals) and Anna Wedlock (Fiddle vocals) too grew up playing their respective instruments throughout Nova Scotia and hold Bachelor's of Music Degrees from Nova Scotia universities. Their versatility as musicians is evident in their playing styles.
The Big Island Trio performs Traditional Celtic and East Coast Music in its' most natural and pure form. Whether it is a song of the sea, the romantic swing of a waltz or the vitality of an Irish Jig, The Big Island Trio gives great care and attention to the nuances of this strong music tradition.
The Trio is excited to perform at Maritime Museum of The Atlantic on April 25, 2017. Come out and keep this Tradition Alive!!!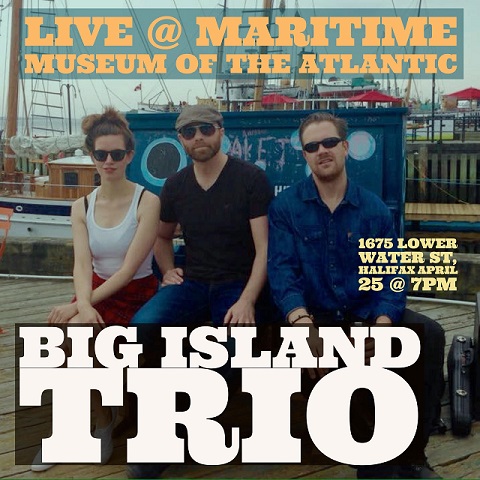 For additional information:
Richard MacMichael
902-424-8897
richard.macmichael@novascotia.ca