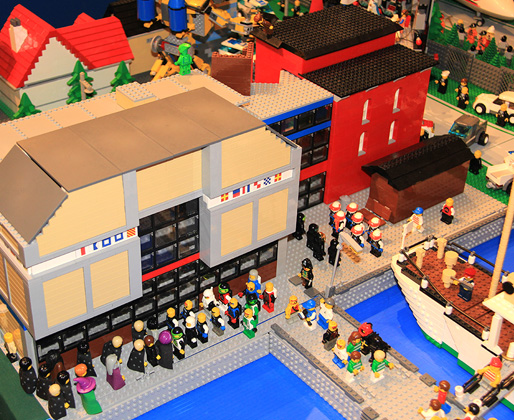 <
Thank You for Giving!
As part of our Christmas at Sea program at the museum, we held our annual Mission to Seafarers and Boatload of Toys campaigns. With your generosity, we collected 106 fully-stocked and wrapped shoeboxes for international ship crew staying in Halifax over the holidays! Our row boat "Gusty" was brimming with gifts and toys for children and young adults for Bryony House and the Boys & Girls Club.  We hope our campaigns will be a part of your family tradition of sharing in the holidays to come!
We hope you'll visit us over the holidays to enjoy ever-popular seasonal display LEGO: Halifax, City by the Sea, on until January 31, 2015!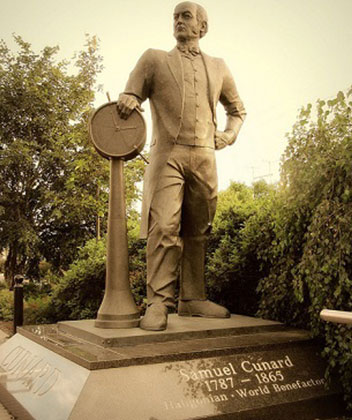 Samuel Cunard: The Little Man Who Did
Tuesday, February 10, 2015, 7:30 pm
As part our free Tuesday night talks, please join us to hear John Boileau, Halifax historian and author, who will present the story of Samuel Cunard. On July 17, 1840, when the steamer RMS Britannia docked at Halifax after her 12 ½-day maiden voyage from Liverpool, England, it ushered in a world revolution.  And the person behind that revolution was a little man from Halifax, Samuel Cunard. His ideas for an "ocean railway" that would rival land-based transportation with its regular scheduled service changed ocean travel forever.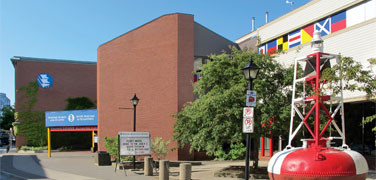 Maritime Museum of the Atlantic
Located in the heart of Halifax's waterfront, there's no better place to immerse yourself in Nova Scotia's rich maritime heritage than the Maritime Museum of the Atlantic.
From small craft boatbuilding to World War Convoys, the Days of Sail to the Age of Steam, the Titanic to the Halifax Explosion, you'll discover the stories, events and people that have come to define Nova Scotia and its relationship with the sea.
Explore more Maritime Museum of the Atlantic events »
Be social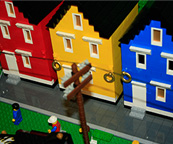 LEGO®, the Halifax Harbour Way!
A holiday tradition for many museum visitors, LEGO: Halifax, City by the Sea opens Dec. 9. Our LEGO Model Competition is now open, and we'll add it to our display!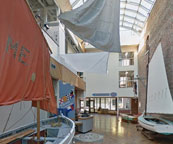 Google Maps Tour
Our museum was recently added as a Halifax location in Google Street View! Experience and explore our galleries and exhibits online to sample our marine history and stories that we share as Canada's oldest and largest Maritime museum. See the Google Maps Virtual Tour »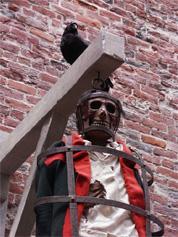 Museum Hours
Hang around at the Maritime Museum
Monday: Closed
Tuesday: 9:30 - 8:00
Wednesday: 9:30 - 5:00 
Thursday: 9:30 - 5:00 
Friday: 9:30 - 5:00 
Saturday: 9:30 - 5:00 
Sunday: 1:00 - 5:00