Special 2017 Exhibits Commemorating the 100th Anniversary of the Halifax Harbour Explosion
Until December 31, 2017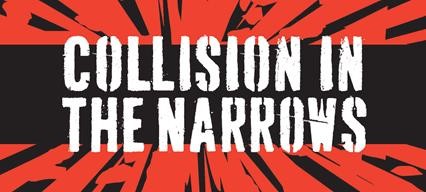 Collision in the Narrows: The 1917 Halifax Harbour Explosion
The Maritime Museum of the Atlantic's 2017 special exhibit, Collision in the Narrows: The 1917 Halifax Harbour Explosion commemorates the 100th anniversary of this fateful event. The museum's permanent Explosion exhibit, Halifax Wrecked, shows what the Explosion did. The special exhibit investigates what it means, for those who suffered it, and for the world today. It examines the Explosion through three cultural movements that converged in The Narrows of Halifax Harbour on December 6, 1917: a deeply rooted indigenous culture, a global maritime culture, and a Canadian national culture.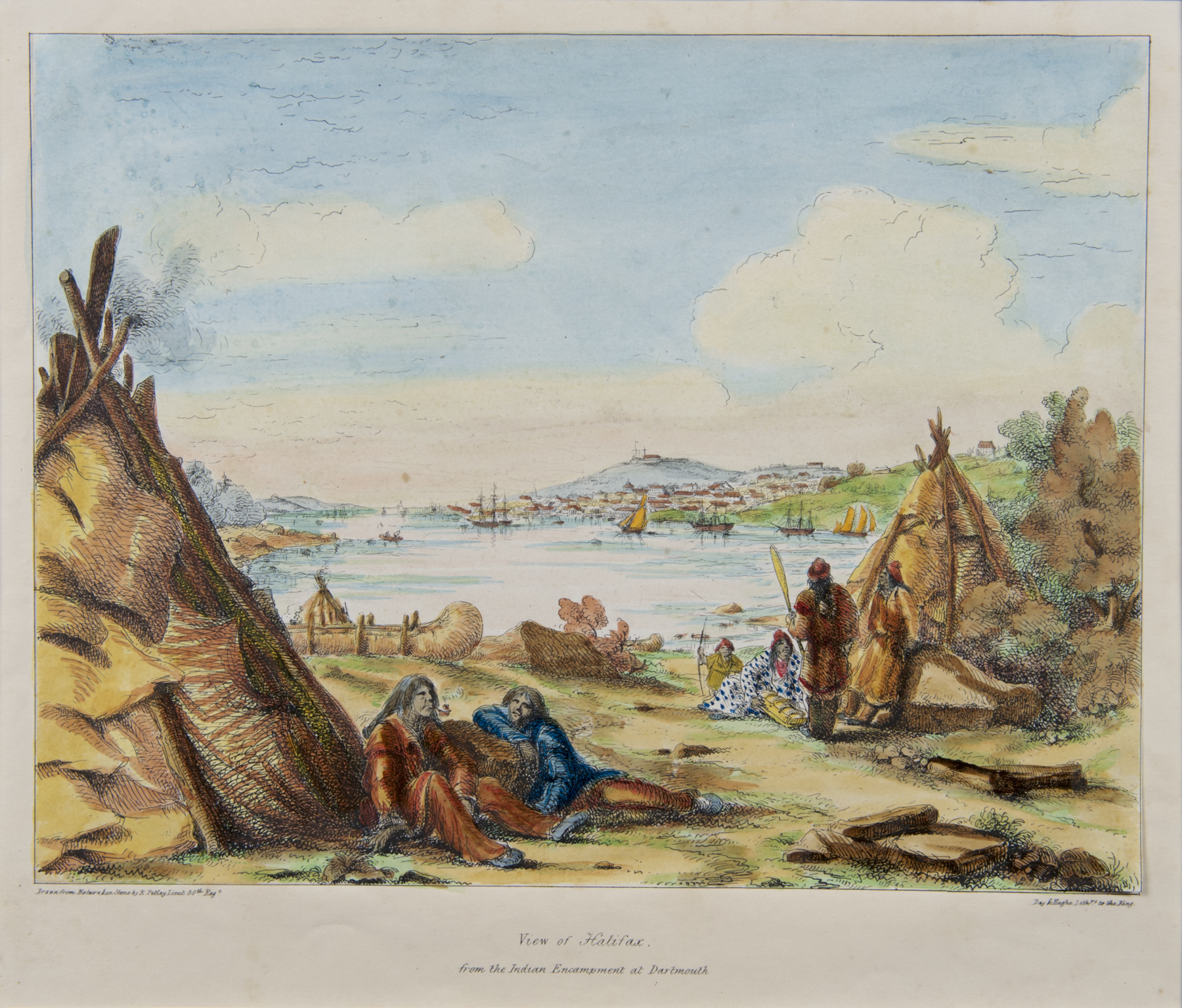 (Robert Petley, View of Halifax, from the Indian Encampment at Dartmouth, 1837; Collection of the Art Gallery of Nova Scotia. Gift of John and Norma Oyler, Halifax, Nova Scotia, 1995 1995.79.2, Photograph by RAWPhotography)
The exhibit approaches indigenous communities struck by the blast in the context of an enduring maritime cultural landscape stretching from The Narrows deep into Mi'kma'ki—the place of the Mi'kmaq. Appreciating the antiquity and refinement of the culture nourished by this landscape, it tracks challenges and opportunities faced in the years and centuries before December 1917.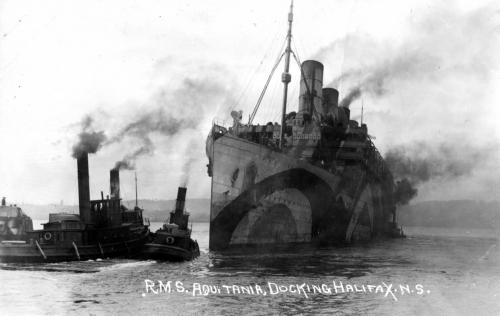 RMS Aquitania, in dazzle paint, at Halifax, MMA, MP18.141.12
For over 250 years, The Narrows was dominated by naval power. Colonial and Canadian Halifax played an important part in circuits of trade and warfare that defined the modern world. During the First World War, these links opened the city to cosmopolitan influences but also placed it on the front lines of global conflict, with devastating consequences.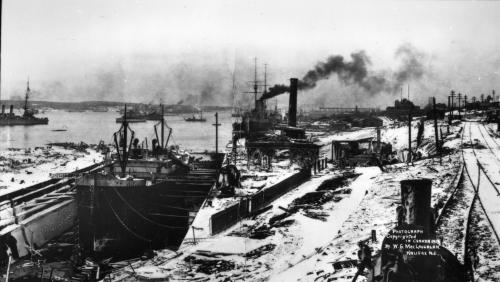 View from devastated Richmond to Dartmouth shore, MMA, MP207.1.184/1c
The Narrows was shaped by rail lines stretching from deep-water shipping piers far into the continent, to the cities of central Canada and the wheat farms of the Prairies. Invigorated by war, Halifax earned its status as Canada's Atlantic Gateway. Residents of the north-end Halifax districts Richmond and Africville relied on the railway, the factories, the waterfront; on December 6, 1917, they payed a terrible price for this reliance.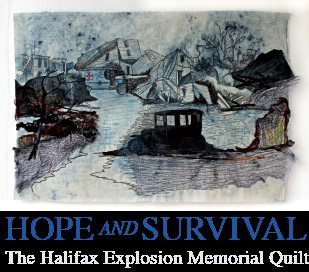 Hope and Survival: The Halifax Explosion Memorial Quilt
artist Laurie Swim
Artist and Portia White Prize winner Laurie Swim conceived Hope and Survival: The Halifax Explosion Memorial Quilt in 2000 as a monumental community art project. It features images in fabric based on witness accounts of the event and its aftermath.
The accompanying Scroll of Remembrance lists the names in English and in Braille of 1,962 people identified among the perished. The Braille dots were beaded with the assistance of some 400 volunteers.
"This community art project involved hundreds of volunteers in beading the Braille for The Scroll of Remembrance that accompanies the centrepiece I created over the past four years. Hope and Survival is a memorial to those lost in the Halifax Explosion a hundred years ago and a gift to the people of Nova Scotia," Laurie Swim.