The Story of a Sinking Man
By Morris Panych

Six Performances Only
Thursday Sep 3rd - 7:30PM
Friday Sep 4th - 7:30PM
Sunday Sep 6th - 7:30PM
Wednesday Sep 9th - 7:30PM
Thursday Sep 10th - 7:30PM
Sunday Sep 13th - 7:30PM
Tickets are $10 cash, at the door. 
Performance at the Maritime Museum of the Atlantic - Upstairs Theatre
Synopsis:
Nash's life hasn't amounted to much. Or so he discovers, when he suddenly finds himself slowly sinking to death in a mud puddle. Unable to escape, he calmly, deliberately - with very little desperation at all, mind you! - attempts to keep his spirits up, until such time as someone comes along to rescue him. Surely it won't be long now... right? Hilarious and touching, with a script by one of Canada's greatest playwrights, this one-man show will make you laugh, make you think, and, above all, make you watch where you step. 
The show runs 70 mins with no intermission. 
Presented as part of the Atlantic Fringe Festival. 
Check for event updates on their Facebook event page!
48-Hour Film Competition and Awards
Wednesday, September 9, 8 pm
Free Admission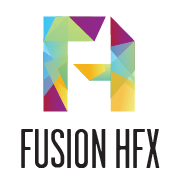 In partnership with Fusion Halifax (Arts & Culture Team), all are invited to see the films that were generated from August 21-23 by registered groups that created five to eight minute short films, all in 48 hours!
This free screening at our museum will also include prizes to be awarded to:
Best Director: $1,000 equipment rental from William F. Whites International Inc.
Best Overall Film: $1,500 equipment rental from William F. Whites International Inc
We will also have a prize for Viewers Choice. All attendees will receive a ballot to vote for their favourite film at the event. Bring your friends!
Check for event updates from Fusion Halifax! 
Flamenco across the Atlantic
Performances at 7:30 and 9:00 pm – Free admission
An artistic collaboration between Maria Valverde, painter, and Flamenco en Rouge, dance company The Flamenco across the Atlantic project will be presented twice from as part of the Museum's Flagship series.
An installation, featuring a large painting by Maria Valverde will serve as a backdrop for a dance performance with live flamenco music, will engage spectators .  The theme of the collaboration will explore the influences of Cuban rhythms, sounds, colours and style on flamenco music and dance. Ida and vuelta ("there and back") describes a style of flamenco that was influenced by the music of former Spanish colonies in Latin America.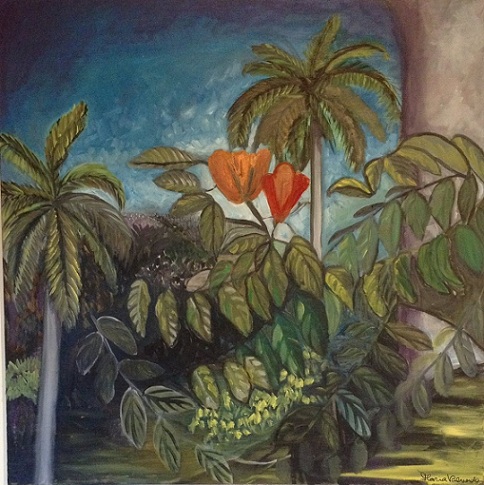 Uniting the talents of well-known Halifax artist, Maria Valverde, and the flamenco dance company, Flamenco en rouge, a unique artistic experience will be created for the spectators in a display of colour, light, music and dance.
This project has been made possible through the generous contribution of the National Bank of Canada (Financial).
For additional information:
Martine
902-476-6183
Joshua Slocum Sailing Alone Around the World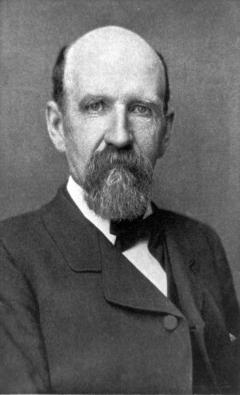 By Ruth Wolff
Reading by Tom Scott
Monday, November 3 at 7pm
Free Admission
(Suggested donation of $5)
On July 1st 1895 Nova Scotian born Joshua Slocum set sail from Yarmouth, NS to become the first man to sail around the world alone! Celebrated around the world as an adventurer among the likes of Charles Lindberg and Neil Armstrong, he published a book of his adventures and it has become a classic in maritime literature.
Tom Scott, a Nova Scotian actor/producer, will give a reading of a one-man script written by Ruth Wolf.
Thrillema  Screening of "Deep Blue Sea"
Thursday, May 15, 2014 (showing at 7:30 pm)
"Researchers aboard the floating laboratory Aquatica have been playing God and now, the terror of Judgement Day has arrived."
On Thursday, May 15, as part of the Maritime Museum of the Atlantic's Flagship Events series, Thrillema is proud to present a free showing of the 1999 classic Deep Blue Sea, starring Saffron Burrows, Samuel L. Jackson and LL Cool J.
Tickets will be required to attend this event. Tickets can be picked up for free at Strange Adventures on 5110 Prince Street, Halifax, starting May 12. Limited seating is available, so get them fast.
Genetically-engineered sharks have broken free of their laboratory confinements and are wreaking havoc. A group of scientists must work together to stop these deadly sharks from breaking loose into the open ocean. This spellbinding movie thrills and delights non-stop. If you haven't yet seen this masterpiece, check out the trailer here (https://www.youtube.com/watch?v=M-493KsbW6g).
Doors will open at 7:00 pm and the showing will start at 7:30 pm in the museum theatre. Concessions will be available for sale upstairs.
Thrillema screenings are in association with Carbon Arc Cinema, bringing the best in horror, sci-fi and cult movies to the big screen.
Flagship Events is a program run by the Maritime Museum of the Atlantic dedicated to collaborating with local artists to hold community events.
For more information about Flagship Events contact:
Ian Mullan Visitor Events Coordinator
Maritime Museum of the Atlantic
Tel: (902) 424-6447
Fax: (902)424-0612
Cell: (902) 219-1690
mullanim@gov.ns.ca
Recent Flagship Events
Xara Choral Theatre, January 31 and February 1: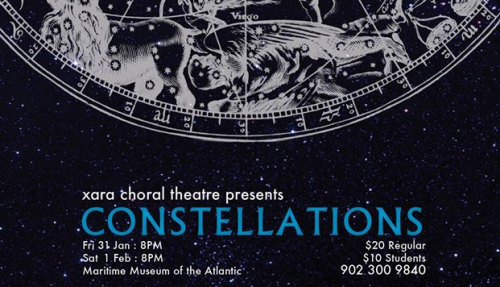 On January 31st and February 1st, as part of the Maritime Museum of the Atlantic's Flagship Events series, Xara Choral Theatre (XCT) Ensemble will present a new work of choral theatre inspired by the origin of the stars.
Drawing from Greek mythology, Constellations re-imagines the mystery of how the stars aligned. This show will blur the boundaries of choral music and theatre by combining improvised song, text, and lighting to create a multi-sensory audience experience. Strokes of music and movement will be used to paint the sound of the heavens as experienced by navigators, travellers, and the stars themselves throughout time.
Featuring a dynamic lighting design by Matthew Downey that evokes the northern sky, the performance blends contemporary choral music by Scandinavian composers including Karin Rehnqvist and Pekka Kostiainen, as well as arrangements of songs by Finnish vocal ensemble Rajaton, and pop artists Lorde and Imogen Heap.
Constellations will be performed at the Maritime Museum of the Atlantic, 1675 Lower Water St., Halifax at 8:00 pm. (Doors open at 7:30 pm). Tickets are $20 adults and $10 students, and are now available online at www.xara.ca or by phone at 902-300-9840, or at the door.