Since 2010 the Maritime Museum of the Atlantic has been reaching out to local arts groups interested hosting an event in our Small Craft Gallery as part of our Flagship arts series.  With a rich and diverse local cultural community, Flagship Events at the museum offer a space for music, dance, performance or visual artists on a conditional basis throughout the year.
As part of the partnership, artists agree to include their event as part of the Maritime Museum of the Atlantic's Flagship Events series as a co-presenter.  It's also requested there be a discount to our membership.
2017 Events
Inner Space Concerts: Deep Sea Conundrum
June 17 at 7:30 pm
For the last Flagship Event of the 2016-17 season, the Maritime Museum partners with Inner Space Concerts for a family show of live music, dance and interactive performance!
Just in time for Ocean's Month, "Deep Sea Conundrum" goes deep down in the darkest reaches of the ocean, an Anglerfish has lost something important and needs our help! Join our imaginative exploration team as we descend through the depths of the ocean to find her. Through narration, dance, and music, we will encounter some of the most mysterious and fascinating creatures, habitats, and phenomena of the sea.
An Inner Space Concerts creation, the show features actress Emma Cruddas, dancer Susanne Chui, flutist Jack Chen, and harpist Ellen Gibling in an interactive performance for kids and adults alike. Music by Ravi Shankar, Claude Debussy, Astor Piazzolla and more! Recommended for ages 4+.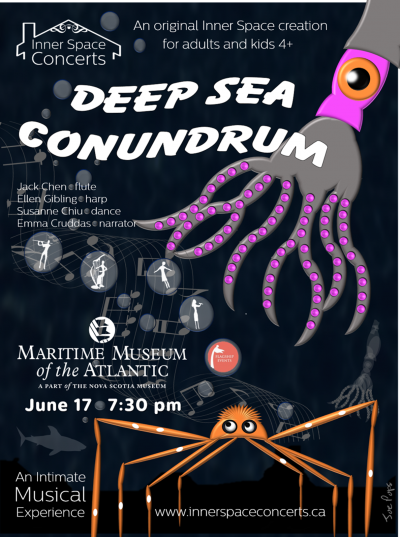 Devour! The Sea - A Maritime Fundraiser at the Maritime Museum of the Atlantic
Thursday, March 23, 2017 from 6:30 pm - 9:30 pm
This Maritime Museum 
Flagship Event
 in partnership with Devour! is a special fundraising event for the 
Dartmouth North Community Food Centre
. Join us for a historical "magical mystery tour" where our museums spaces and exhibits bring alive our Maritime heritage, regional food and films of "the ocean". For one night only!
Experience the world's largest film festival on the waterfront, support a wonderful organization and attend this intimate, exclusive evening that'll be a feast for the senses!
Previous 2016 Flagship events
Haliwood Squares
with Eastern Front Theatre - Friday, January 29th
Eastern Front Theatre is thrilled to present Hali-Wood Squares, a hilarious spoof game show that delivers more laughs than you can shake at a snow-blower.
Based on the popular and similarly named long-running TV game-show, EFT's Hali-Wood Squares will feature many of Halifax's most Hali-famous names, pitted against each other in an hilarious battle of wit.
Audience members will be invited to take part as contestants or simply sit back and experience a live game show, right here in Halifax. In the winter, when we all need a good warming laugh.
Doors open at 7:30pm, Show at 8:00pm
Tickets ON SALE NOW
www.tickethalifax.com
$20 - (Ticket Halifax service fee not included)
Shanties and Shandies
with the Halifax Camerata Singers - Saturday, February 20 at 6 PM - 8 PM
A fun evening featuring music, storyteller Claire Miller, craft beer and wine, munchies and a silent auction - please join the Halifax Camerata Singers for this very fun evening fundraiser!
Tickets ON SALE NOW
In Honour of his Royal Highness Prince Arthur: The Military Ball of 1869
Friday April 15
, 8 pm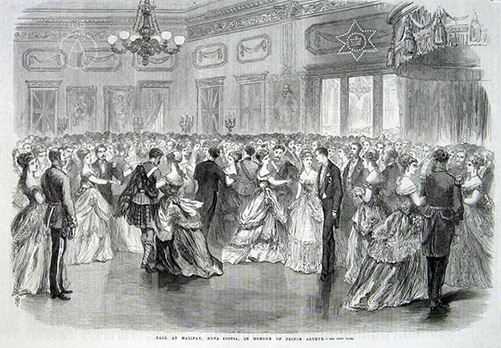 ​
The Costume Studies Program in the Fountain School of Performing Arts, Dalhousie University, announces a show of costume celebrating a rich part of Halifax's heritage by re-creating some of the inhabitants who were in attendance at the 1869 ball celebrating the visit of His Royal Highness Prince Arthur.
Senior students have researched several of the individuals who attended the event and have created historically-accurate clothing which might have been worn at the original ball, including the underpinnings! The students will also perform a Viennese waltz, just as was done at the ball in 1869.
Tickets, which may be purchased on eventbrite.ca, are $20, and $15 for students and seniors, with proceeds going to the Costume Studies Scholarship Fund.
Flagship Fridays: Flamenco en Rouge
November 25, 7:00 pm
Maritime Museum of the Atlantic is delighted to feature Flamenco en Rouge for their second Flagship event, to be held Friday, November 25th at 7 PM.
Recently returned from Spain, Flamenco en Rouge's eight dancers and musicians bring the pure, authentic beauty of gypsy flamenco in their highly-charged and passionate performances that leave audiences enthralled.