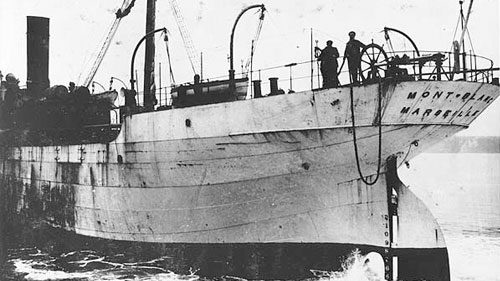 Stern of Mont-Blanc before the explosion during a prewar visit to Halifax, Aug. 15, 1900.
Photo: Maritime Museum of the Atlantic, MP18.196.11, N-4,395
Name: Mont-Blanc
Official Number: 173945
Signal Letters: KHTN
Tonnage: 3121 Gross, 2252 Net, 2691 underdeck
Dimensions: 320' long, 44.8' breadth, 15.3' deep Forecastle 35', Bridge 76' Poop 30'
Built: Middlesboro, Britain
Builder: Sir Raylton Dixon & Co. Ltd.
Year: 1899
Registered Port: St. Nazaire, France
Owners: Cie Generale Transatlantique
Engines: Steam, Triple expansion, Single screw
Horsepower: 247 NHP
Crew: Captain Aime Le Medec; Halifax Pilot: Francis Mackey
Career: Inbound to Bedford Basin from New York with munitions cargo to join convoy for Bordeaux. Rammed by SS Imo on starboard stem at 8:45 am. Captain and crew abandoned ship and all but one survived. Ship blew up and totally destroyed at 9:05 am.
Sources: Lloyd's Register 1916-17; Halifax Explosion Inquiry; Ruffman, Alan Argonauta, Vol. XX, No. 3, July 2003, 9-15; No. 4, October 2003, 12-15; Vol. XXI, No. 1, January, 2004, 3.