Congress 11-16 September 2022
Congress host: Maritime Museum of the Atlantic
Congress venue: Canadian Museum of Immigration at Pier 21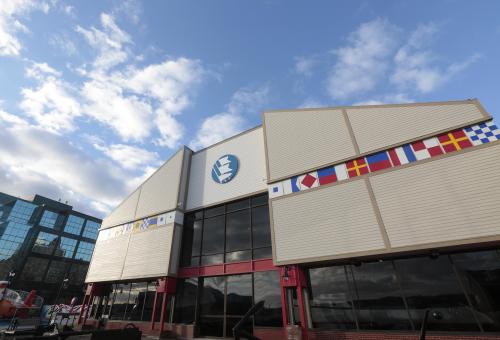 Your host for the 2022 ICMM Congress is the Maritime Museum of the Atlantic in Halifax, Nova Scotia, Canada!  The Congress will be held from September 12-16th, 2022 (with a welcome reception on the 11th).
This will be a very special Congress, not just because it will be the first opportunity for many of us to meet again in person after such a long, enforced break, but also because 2022 is the 50th Anniversary of the International Congress of Maritime Museums!
Our world has changed significantly in the past few years.  Impacts of the pandemic, of climate change, and the state of our oceans, as well as racism and social inequities have become global priorities.  To continue to be relevant museums we've had to change.  We've broadened our dialogues to become more inclusive, to tell more diverse stories, and even to scrutinize some of our own practices and traditions of preserving and presenting our heritage.  One thing is clear – this new world beckons our museums to embrace creative, collaborative, and innovative approaches to connecting our past, present, and future.
Over the course of five days, we'll explore how our maritime museums build our engagement and relevance while aligning our work with critical global topics such as the state of our oceans and ocean innovations, climate change, and racism. Those who attend in-person will enjoy an immersive Canadian cultural experience – including entertainment, formal and casual dining, tours, and harbour excursions. We'll also be offering a Virtual Congress Program for the first time, which includes access to all educational programming during the Congress. Most sessions will be streamed live and recorded.  These will be available to you regardless of your time-zone, and you will have access to session content for up to 1 month post-Congress.  All in-person delegates will also receive a password enabling their institution at home to follow the Congress virtually.
Please join us to reconnect with old friends and make new friends, to celebrate the 50th Anniversary of ICMM, and explore our traditional, contemporary, and future connections with the sea.
Programme
ICMM 2022 Tentative Programme (283 KB)
7 page PDF
File size: 283 KB
Programme Subject to Change
Partners' Programme
We are pleased to welcome delegate partners to the 50th Anniversary ICMM! Your week will be filled with a variety of excursions and activities. We look forward to showcasing some of Nova Scotia's most exceptional destinations and experiences. Download the full Partners' Program here (PDF 196 KB)