The North American squadron during the American Revolutionary period
Between 1776 and 1783 alone, there may have been 15,000 cases of desertion in North American waters, despite numerous regular orders from station commanders to captains and commanders to take various measures to attempt to improve discipline and reduce the losses of men.1 During the course of the American Revolution, the Halifax naval yard played an important, but largely secondary, role in support of the vessels of the North American squadron deployed in New England, the Cheasapeake and points south, as well as to vessels of the Leeward Islands and Jamaica squadrons which from time to time visited Halifax for repairs.2 The smaller sloops and schooners of the North American squadron, in addition to their other duties, were regularly sent out on cruises to raise men for the larger warships in North America. Sickness, disability, death and desertion all had a role to play in the lower decks of the squadrons vessels being below official complement, but this exhibit focuses on the problem of desertion. How bad was desertion among the vessels of the squadron? Where were men deserting, and who were these men? Were they volunteers or prest men? Were deserters Americans, English, Scottish, Irish or other seamen from elsewhere in the British Empire or foreign parts?
Following the end of the Seven Years' War in 1763, the task of ships of the North American station switched primarily to that of trade enforcement - making sure that colonial American vessels complied with the provisions of the Navigation Acts, and enforcing other measures related to smuggling and customs duties, all of which contributed to the growing resentment in the American colonies over British rule. From 1767 onwards that job fell to Commodore Samuel Hood, the commander-in-chief of the station. In July 1770 the headquarters of the squadron, moved from Halifax to Boston in response to the unrest there, and desertion was rampant. After his arrival as Hood's second in command and eventual replacement in October 1770, Commodore James Gambier also tried and failed to meet the challenge of desertion without impressment:
I took the liberty of mentioning to their Lordship's my apprehensions of the Seamen deserting from the several ships particularly at this Port from the great Trade hence and the continual seduction, those apprehensions were too true and the Crews of the King's Ships greatly decrease: but being informed that many Seamen that had left their Ships are now lurking in several parts of this and the neighbouring Provinces, sensible of their fault, but deferred from returning to their duty thro fear of punishment, I thought it the best expedient for the King's Service particularly at this critical time, and to avoid as much as possible the necessity of pressing, a Mode so obnoxious in the Colonies – to offer by Proclamation in this and the several neighbouring provinces a pardon to those that have lately deserted if they return to their duty by the first of February next...3
However, this gambit, as in the past, was not successful. Within a month Gambier was outlining its failure and a "new" proposal, a bounty for seamen who volunteer:
...I am sorry to say that very few of the Delinquents avail themselves of the Pardon offer'd and the Reward for apprehending them has produced no better effect.
My anxiety to avoid the necessity of impressing seamen and at the same time to have the Ships I have the honour to command in perfect readiness for service at this critical time... has made me endeavour to raise Volunteers by recruiting Parties in this Town, and by offering a Bounty of three Pounds to every able seamen and thirty Shillings to ordinary Seamen and Landmen, similar to the proclamation at home, but even this expedient has procured very few men, however it will convince the People here that real necessity only can oblige me to authorize any Steps prejudicial to their Trade  or contrary to their inclinations.4
This policy was equally unsuccessful, and the unapproved expenses for bounties was one of the factors leading to Gambier's eventual recall to England, although there were also reasons of politics, patronage, and, after his return to America once war broke out as second-in-command to Lord Howe, incompetence. Gambier was replaced by Rear Admiral John Montagu, who arrived in Boston in August 1771, only to be replaced himself as unrest grew in America by Vice Admiral Samuel Graves, who sailed into Boston harbour in June 1774. With the outbreak of war, Graves was replaced by Vice Admiral Molyneux Shuldham. Shuldham and the North American squadron evacuated Boston and returned to Halifax in March 1776, and Shuldham himself lost the position of commander-in-chief to Vice Admiral Richard, Lord Howe, who arrived off Halifax in June 1776 before proceeding to New York.5
On the 6th of September 1776, Commodore Sir George Collier arrived in Halifax, Nova Scotia onboard the Rainbow frigate to take over the role of senior naval officer there from Mariot Arbuthnot. Collier noted of the inhabitants in Halifax:
The lower kind of People were chiefly born in America, and from their Connexions with New England are not very well inclined to his Majs. Govt. However the number of troops stationd here keep them in awe and they dare not publically declare their rebellious sentiments. Many of them carry on a private correspondence with Boston and by that means supply the Rebels with things they most stand in need of...6
It was, of course, these "lower kind of People", even with their pro-New England sentiments that the navy was most interested in attracting, voluntarily or involuntarily, to its vessels as seamen for the chronically short-handed North American squadron, whether they be men from Nova Scotia, Newfoundland, Quebec, New England or elsewhere.
For example, by the time Collier shifted his flag to New York in 1779 to assume command of the entire North American squadron after Lord Howe's return to England, the former noted that all his vessels were "...very ill mannd; whilst the Privateers sailed in Shoals from New York full of men and frequently inveigling those belonging to the King's ships to desert and join them", and there are continual references in the correspondence of the various North American station commanders to men being seduced by merchants or crimps for higher wages at several ports.7
Desertion rates, 1775-76 ship sample
Table 1 shows the raw numbers of men run on the books for seven ships from the 1775-6 sample. It can be seen that the number of deserters on the various ships ranged from eight to forty-eight percent of the total number of men on the books, while overall around twenty one percent of the 3,469 men on the books of these vessels deserted from the squadron. Deserters per annum as a percent of average complement ranged from six to forty-two percent, while turnover from all causes (sickness, death, discharge to other ships, etc.) as a percent per annum of average complement varied from thirty-five to 152 percent. The vessels having the highest turnover also had the highest desertion rates. This implies that there is a link between building some sort of small group cohesion in a ship's crew and reducing desertion rates.
Table 1 - Desertion rates, 1775-6 ship sample
Vessel (Guns)
Official Complement

Time Period

Total men on books

Total men run

% of men run

Men run as % p.a. of average complement

Turnover from all causes as % p.a. of average complementa

Sources
(all TNA:PRO)

Asia (64)
300 to 500

Jan. 1774 to 
Dec. 1776

836

74

8%

6%

35%

ADM 34/4
ADM 36/8081

Brune (32)
200 to 220

Nov. 1775 to 
Mar. 1779

509

118

23%

17%

67%

ADM 34/93
ADM 36/7755

Emerald (32)
200 to 220

Nov. 1775 to 
July 1779

486

94

19%

12%

55%

ADM 34/275
ADM 36/7829-31

Gaspee brig(6)b 
30

Jan. 1773 to 
Nov. 1775

75

36

48%

42%

71%

ADM 34/345
ADM 36/8432

Hopeschooner(6)
30

Sept. 1769 to Dec. 1775c

171

67

39%

38%

73%

ADM 33/520

Rose (20)
130 to 160

Nov. 1773 to 
Sept. 1779

561

99

18%

12%

56%

ADM 34/648
ADM 36/7947-8

Swan (14)
90 to 125

Dec. 1770 to 
Mar. 1780

475

182

32%

18%

39%

ADM 34/75
ADM 36/7965-6

Viper (10)
80 to 110

Apr. 1775 to 
Dec. 1776

356

55

16%

35%

152%

ADM 34/792
ADM 36/7939

Totals:

 

3469

725

21%

n/a

n/a

 
a. Hope schooner turnover excludes all men discharged into the Hope brig when Hope schooner was paid off on 14 Dec 1775.
b. The replacement for the Gaspee schooner which had been burnt by the rebels at Rhode Island.
c. Somewhat confusingly (like the Gaspee) the Hope schooner was replaced by a vessel with the same name, the Hope brig, on 14 Dec 1775. A survey of the deficiencies of the schooner had found her unfit for repair and she was condemned on order of Admiral Graves. The remaining members of her crew were discharged into the new brig on that date. TNA:PRO ADM 33/520, Pay book of the Hope schooner, 1 Sept 1769 to 14 Dec 1775.
Desertion and ethnicity in the North American squadron, 1775-1776 ship sample
So which men were deserting their vessels? Table 2 shows that in the 1775-6 sample, Irish seamen represented at least twelve percent of the deserters, perhaps more given that the place of birth of thirty-nine percent of men marked as run is not indicated on the ship's musters or pay books. The Irish made up at least eight percent of the total number of men in the sample, the second largest ethnic group after English seamen. Irish contingents generally ranged from five to twenty percent of the total men on the books of individual vessels. A better gauge of "desertion rate as loyalty" than the raw numbers is to examine the proportion of men of each ethnicity who ran from their vessels. This is shown in the last column here. Unsurprisingly, Americans come out on top in this analysis at forty-six percent. More interesting is the fact that among men from the British Isles, the proportion of deserters among each ethnicity is very similar. The Irish are the highest, at twenty-nine percent, but only four percent higher than the Scottish at twenty-five percent, while twenty-four percent of English seamen deserted. Also interesting to note is that the slightly higher Irish rate is almost identical to the proportion of deserters among foreign seamen and those from non-American colonies.
Table 2 - Deserters by ethnicity, 1775-6 ship sample
Ethnicity 
(by declared place of birth)

No. of men on muster and pay books

% of total men on books

Total deserters by ethnicity

% of total deserters

Deserters as % of same ethnicity on the books

Unknown

1920

55%

268

37%

n/a

English

712

21%

179

25%

25%

Irish

283

8%

89

12%

32%

Scottish

216

6%

60

8%

28%

Welsh

34

1%

5

0.7%

15%

American

197

6%

91

13%

46%

Other Empire

37

1%

12

2%

32%

Foreign

70

2%

22

3%

31%

Total
(8 vessels)

3469

100%

725

100%

 

 
Deserters by geographic region, 1775-1776 ship sample
Graph 1 shows the total number of deserters by region. It is immediately obvious that in the American colonies at this time, New York, Massachusetts and Rhode Island were the more desirable locales for running from one's vessel, in addition to the attractions of running from it in home waters prior to departure or after return to metropolitan Britain. Nova Scotia received a total of only 63 deserters, compared to New York's 217, the 138 seamen who ran in home waters, Massachusetts' 119, and Rhode Island's 107.8
It would seem that Nova Scotia was perhaps a more popular destination than the Cheasapeake or the Delaware, which only had 37 deserters in this sample, although that may simply be a factor of where the ships in this sample were stationed and the opportunities which arose during their cruises. Within each region, perhaps unsurprisingly, the largest ports, which were also the centres of British naval activity when the squadron moved its headquarters south from Halifax, received the vast majority of men run. For example, Boston had 103 of the 119 men run in the sample for Massachusetts (86%), Newport 78 of the 107 men run in Rhode Island (73%), and the town of New York 190 of that colony's 217 deserters (88%).
Graph 1 - Deserters by Region, 1775-6 ship sample
Sources: See Table 1 above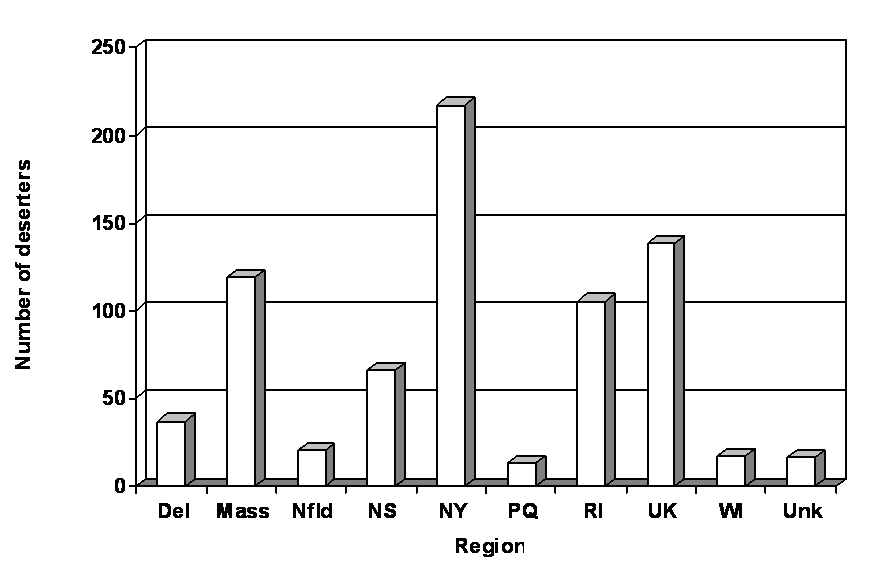 Deserters in Nova Scotia by community, 1775-1776 ship sample
In Nova Scotia, this was somewhat less the case, as can be seen in Graph 2 below. Four vessels, the Viper and Swan sloops, the Gaspee brig, and the Hope schooner, had men run in Nova Scotian waters.9 The Viper, under Captain Robert Linzee was assigned to Nova Scotia from January to June 1770, and again under Captain Samuel Graves from April 1776 to September 1777. After that date she was stationed in Quebec and the Gulf of St. Lawrence until November 1779.10 After a long stay in Newfoundland between 1764 and 1768, and a period in New England in 1769, the Hopeschooner, under Lieutenant George Dawson, spent much time in Nova Scotia and the Gulf of St. Lawrence on fisheries protection and anti-privateer cruises between January 1770 and December 1771, and again between November 1774 and January 1775.
The Gaspee brig, the former Sally tender, was purchased into the service and refitted as a replacement for the Gaspee schooner burnt by the rebels in Rhode Island in June 1772. Under Lieutenant William Hunter the new Gaspeespent much of its time in New England, but on visits to Halifax lost several men to desertion. She was eventually scuttled during the siege of Quebec in November 1775 to prevent her falling into rebel hands.
The Hope and the Gaspee were often specifically ordered to raise men for the squadron on short cruises of up to two weeks duration.11 The Swan, under Captain James Ayscough, made at least seven voyages to Halifax to load stores and carry them to the ships of the squadron deployed at Boston between October 1771 and June 1776, and also spent some time at the Halifax yard for repairs.12
The case of the Swan amply demonstrates that Halifax had some attraction for men wishing to desert the service. Immediately upon its arrival there from Boston on 18 April 1772, thirteen men of the vessel's official complement of 100 seamen ran from the sloop en masse and did not return.13
Men who ran at Halifax account for 42 of the 63 total deserters in Nova Scotia, or around 66%, substantially less than similar proportions for the larger port towns in New England. The other third were spread out in handfuls of men in the various coastal communities of the colony, as can be seen in Graph 2, from Louisbourg to Annapolis. This may simply have been due to the smaller vessels generally assigned to Nova Scotian waters such as the Viper or theHope spending much more time cruising to protect the fisheries and the various small coastal communities, raising men and resupplying garrisons there. The larger vessels assigned in New England often spent much of their time on trade interception duties off of one major port, or engaged in the campaigns around one location such as Boston, New York, and Rhode Island. The deserters in Halifax were composed largely of men who ran when their ships refitted or resupplied there.
Graph 2 - Deserters in Nova Scotia by Community, 1775-6 ship sample
Sources: See Table 1 above.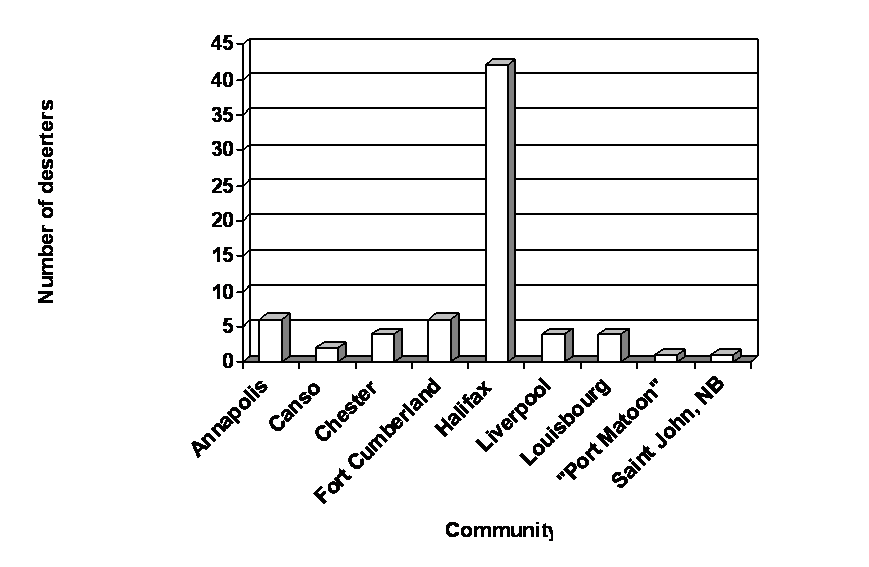 1. TNA:PRO ADM 50/17 Journal of Rear Admiral George Montagu, 26 May 1771 to 28 May 1772. As examples of some measures taken, Montagu issued orders that no vessel should be left without a commissioned officer aboard, that no boat was to go ashore after sunset and that when cruising the warships were to stay further off shore than usual to reduce desertions, presumably by men swimming from them. In addition,  rum was not to be issued while in port, and beer casks were to be sent ashore while in harbour, while orders to prevent "Drunkenness and irregularity" among the seamen at the naval hospital in Boston were also sent out after his arrival there in August 1771. Montagu informed the Admiralty Board in London that there had been 'frequent desertions in the Fleet, and that every legal Method was used to get other Men.' He asked for authority from the Admiralty to aid in recovering the wages due to the few merchant seamen who had volunteered for service in the Navy – as the captains and owners of their vessels often refused to pay back wages in an effort to prevent men signing onto a Royal Navy vessel.
2. The most recent operational history of the North American squadron in Nova Scotia is that of Julian Gwyn, Frigates and Foremasts: The North American Squadron in Nova Scotia Waters, 1745-1815 (Vancouver: UBC Press, 2003). The history of the Halifax yard and naval administration in the colony is examined in idem, Ashore and Afloat : The British Navy and the Halifax Naval Yard before 1820 (Ottawa: University of Ottawa Press, 2004), and more generally for the Royal Navy during the American Revolution in Roland G. Usher, 'The Civil Administration of the British Navy during the American Revolution' (Ph.D., University of Michigan, 1942). Other important works relating to Nova Scotia which touch on some of these themes include W.A.B. Douglas, 'Nova Scotia and the Royal Navy, 1713-1766' (PhD, Queen's University, 1973), and Ernest Clarke, The Siege of Fort Cumberland, 1776: An Episode in the American Revolution (Montreal: McGill-Queen's University Press, 1995). Naval operations and the interactions of the squadron with colonial authorities in the years leading to the outbreak of rebellion in America are well-covered in Neil R. Stout, The Royal Navy in America 1760-1775: A Study of Enforcement of British Colonial Policy in the Era of the American Revolution (Annapolis: Naval Institute Press, 1973).  For operational histories of the Royal Navy during the War of American Independence see David Syrett,The Royal Navy in American Waters, 1775-1783 (Aldershot, U.K.: Scolar Press, 1989) and John A. Tilley, The British Navy and the American Revolution (Columbia, S.C.: University of South Carolina Press, 1987).
3. TNA:PRO, ADM1/483, Gambier to Stephens, 21 Dec. 1770.
4. TNA:PRO, ADM1/483, Gambier to Stephens, 25 Jan. 1771.
5. David Syrett, "'This penurious old reptile': Rear-Admiral James Gambier and the American War", Historical Research, 74:183 (February 2001):64-67
6. NMM JOD/9 Admiral Sir George Collier, "War in America, 1776". For more on this theme the classic work is John Bartlet Brebner, The Neutral Yankees of Nova Scotia: A Marginal Colony during the Revolutionary Years (Toronto: McClelland and Stewart Ltd., 1969).
7. Emphasis in original. NMM BGR/28, "A Detail of some particular services performed in America during the Years 1776, 1777, 1778 and 1779 by Commodore Sir George Collier, Commander in Chief on the America station. Compiled from Journals and Original Papers by G.J. Rainier"  ff.114-115
8. Includes one man run in New Haven, Connecticut.
9. The Rose had one man run in Saint John, New Brunswick.
10. TNA:PRO ADM 8/52
11. TNA:PRO ADM/8 46, 47, 48.
12. Ibid. The Swan was at Halifax in October 1771, April and May 1772, September and November 1773, and April and June 1776.
13. TNA:PRO ADM 34/75 Swan Paybook 1 Dec 1770 to 15 Mar 1780; ADM 36/7965 Swan Muster Table, 31 Dec 1775; ADM 36/7966 Swan Muster Table 31 Dec 1776.