Christmas and Holiday Events at the Maritime Museum of the Atlantic 
The Maritime Museum warmly welcomes you to come and take part in Christmas at Sea, our annual series of holiday events and charitable activities. This year, the festivities will commence the final week of November, and will carry through to the middle of February 2017.                   
Mission to Seafarers Shoebox Campaign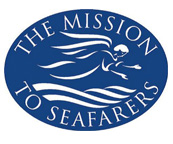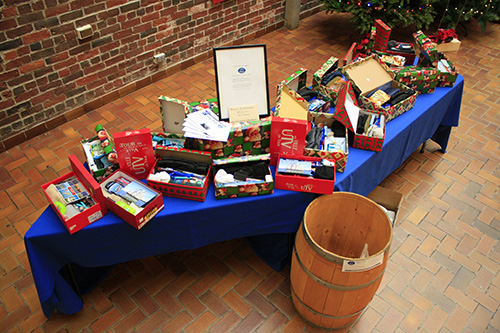 Every December, the Maritime Museum of the Atlantic joins the Mission to Seafarers in a traditional holiday program of giving. Mission to Seafarers is a non-profit international charity that exists in ports around the world including Halifax. The Halifax mission provides a safe meeting space and interdenominational religious services as well as essential everyday services for crew members of ships calling on the Port of Halifax.
The Maritime Museum is pleased to partner with the mission during the traditional Christmas Shoebox Program.  During the mid-1900's and today, festively wrapped shoeboxes get delivered to seafarers in port during the holiday season. This year, with your generous support, we were able to provide 80 shoeboxes of items to help make the crew who are stationed here over the holidays, a little warmer.
A special thank you to the management and staff of John David Shoes for their donation of this year's shoeboxes.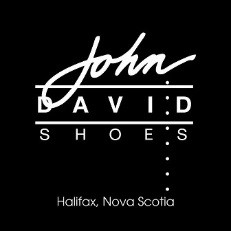 Halifax, City by the Sea Display!
Tuesday, December 13, 2016 until February 24, 2017
Share your holiday memories with us and enjoy the fantastic world of LEGO, the Halifax Harbour way!  Thanks to our master LEGO builder Owen Grace, the Maritime Museum of the Atlantic has enjoyed sharing this memorable holiday LEGO experience with young children, families and LEGO enthusiasts! You'll recognize some of our signature waterfront spots and harbour "regulars" in LEGO form. Keep a keen eye for a few surprises and see what you can move around the bustling scene.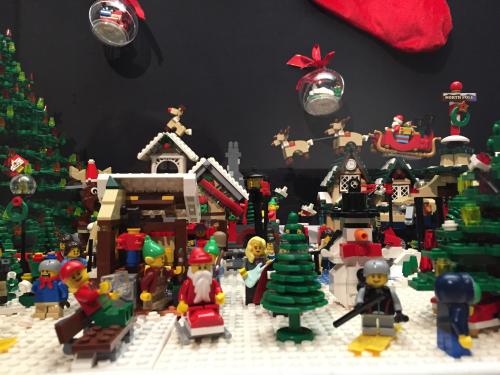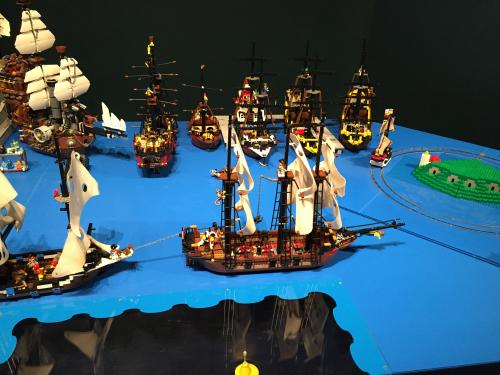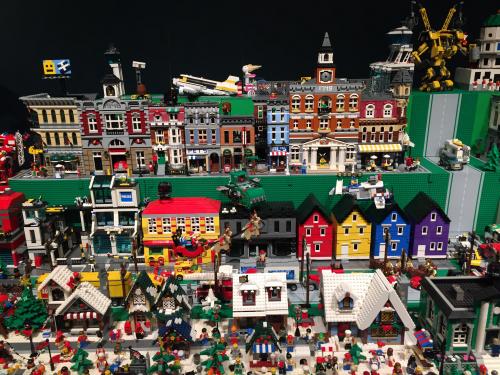 4th Annual LEGO Maritime Model Competition
Competition from December 17, 2016 until January 31, 2017.
Create and add your inspired Maritime LEGO model in our rendition of the Halifax harbour and city seascape by entering our 2017 LEGO Maritime Model Competition and display. Enjoy seeing and sharing your creation displayed in our LEGO: Halifax, City by the Sea with museum visitors over the holidays and enter to win some amazing prizes!
Entry form to submit with your LEGO model (235 KB word)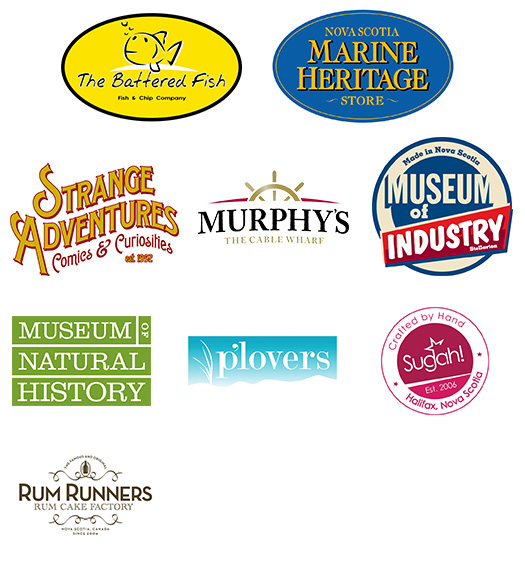 Nautical Christmas Card Display
Saturday, December 3, 2016 until Wednesday, February 1, 2017
Nautical Christmas cards have circled the globe since the days of the clipper ships. On display are a wide variety of beautiful cards from cable ships such as Mackay-Bennett and Minia, which recovered the bodies of the victims of the RMS Titanic disaster as well as Lord Kelvin and Cyrus Field, which were mainstays on the Halifax waterfront for years. There are also cards from grand ocean liners such as the original Queen Elizabeth, the Royal Yacht Britannia and our own CSS Acadia, represented by a series of cards by our talented ship keeper, Steve Read. There are also the whimsical but thought-provoking Gursky models, featured in this post by our Registrar, Lynn-Marie Richard.
Christmas at Sea Family Fun Day
Saturday, December 10 from 10:00 am to 12 noon and 1 pm to 3:00 pm
Small Craft Gallery
The Maritime Museum of the Atlantic is drawing on the traditions of celebrating the holiday season as it was done during the Age of Sail, the inspiration for our family fun ornament making day. Before the 20th century, much of what is considered part of celebrating a modern Christmas such as presents, decorations and specialty supplies, needed to be shipped by merchant ships over weeks and months to arrive before December.
The crafts offered during the Christmas at Sea Family Fun Day are meant to call upon a time when Christmas tree ornaments were a relatively new idea and many early decorations were made by the families themselves.  So, take a break from the hustle and bustle of the holiday season, join us for festive snacks, and stay to make Maritime ornaments and craft with us!